Follow Your Food from Farm to Fork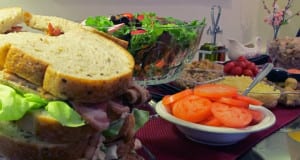 Long before people started talking about "farm-to-fork," the Smucker family was bringing food from the land to the table. We have been in Bird-in-Hand since 1911, growing and preparing food across eight generations, and we continue that tradition today.
Indulge in the ultimate getaway for foodies. Our owner, John Smucker, a local Mennonite farmer, will introduce a small group of Guests to some of his Amish neighbors and give them a chance to see, touch, smell and taste their foods. These unforgettable visits will include a flavorful luncheon using locally grown foods.
The Farm to Fork Package includes:
May 9, May 16 and May 23 , 2017
May 9 & 16 Tours Are Sold Out.
May 23 has limited availability.
We are taking reservations for the fall Harvest Tour. Click here for more information.
Tour Schedule
| | | |
| --- | --- | --- |
| 8:00 am | | Welcome by Bird-in-Hand owner John Smucker, your personal tour guide. |
| 8:15 am | | Tour Smucker Farms, a local, family-owned farm for generations. Learn more about their cage-free egg operation and how they produce over 9 million eggs per year. Take home a complimentary half-dozen eggs. |
| 9:00 am | | Get to know Wesley Groff, third generation farmer of Groff's Celery and Vegetable Farm. Known for their homegrown celery and lettuce, they start almost all of their crops from seed and grow produce in a chemical-free environment. |
| 9:45 am | | Visit Christ Miller's Natural Health Food Store, next door to his organic family farm, then shop for some goodies to take home. |
| 10:45 am | | Travel to the farm of Leroy Miller, an Amish farmer raising grass-fed meats, poultry, vegetables and organic dairy products. |
| 11:45 am | | Visit the farm of Ephraim Huyard, an Amish farmer who brings wagons full of fresh sugar peas and grape tomatoes to the Bird-in-Hand Family Restaurant & Smorgasbord. |
| 12:30 pm | | Grown Local Luncheon at the Village Inn & Suites |
| 2:00 pm | | Tour Oasis of Bird-in-Hand, a Real Live Food cooperative of Amish farmers. We'll learn the benefits of drinking milk from grass-fed cows and watch them make their drinkable yogurts and milks. Sample their products and take a moment to shop in their store before we end the tour |
Space is limited so reserve early. Enjoy this package for $459 (plus tax). Extend your stay for only $99 a night (plus tax).
Call (800) 914-2473 to reserve your stay. For more information on the Village Inn & Suites, click here.
Walking is required for these tours.

Requires $200 deposit to reserve your tour (refundable up to two weeks prior to event). Includes two night stay in a standard room or junior suite (double occupancy, based on availability; ask about upgrades to a larger suite), the farm tour, luncheon, a welcome market basket, daily deluxe continental breakfasts for two and a dinner for two at the Bird-in-Hand Family Restaurant & Smorgasbord. Taxes not included.