The whoopie pie is an all-American baked good of many colorful names: black moon, gob, black-and-white, bob, or "BFO" for Big Fat Oreo. To us, here in Lancaster County, they are known as whoopie pies, our beloved favorite dessert. No matter what you call the Pennsylvania Dutch treat, you can find homemade whoopie pies made from scratch at our local Lancaster County bakeries.

About Whoopie Pies
Is it a cookie, a sandwich, a pie or a cake? It's hard to say. Traditionally, the whoopie pie is made of two round, mound-shaped pieces of cake-like cookies. Sandwiched in the center, you'll find a sweet, creamy, filling or frosting. Whatever it is, whoopie pies are a sugary vehicle to deliver a variety of flavor combinations like peanut butter, pumpkin, holiday mint, or red velvet.
Whoopie Pies' Origin Dispute
The origin of whoopie pies is highly debated. Both Pennsylvania and Maine declare themselves the birthplace of the whoopie pie. Seeking to end the dispute, Maine voted in 2011 to make whoopie pies the state's official treat. But where did the story begin?
Discover Lancaster claims the whoopie pie recipe was created by Lancaster's Amish and Pennsylvania German communities and handed down through generations. Longtime Lancaster County residents share memories of whoopie pies made from leftover cake batter. Yet, the source of these memories is anecdotal and was never transcribed anywhere.
It's also possible the treat came from Labadie's Bakery in Lewiston, Maine, that first began commercially selling whoopie pies in 1925 when the bakery opened. However, according to culinary historian William Woys Weaver, the cake part of the whoopie pie may have been derived from a cake made famous at a train station in Berwick, Maine. The recipe was altered and reinvented by Berwick Cake Company in Massachusetts. They sold whoopie pies under a different name in the 1920s, but they didn't sell very well.
"In 1928, as a stunt, the company had the actors of the Broadway show "Makin' Whoopee," then playing in Boston, toss the cakes into the audience at curtain call," said Weaver. Whoopie pies were an instant success, resulting in their present name.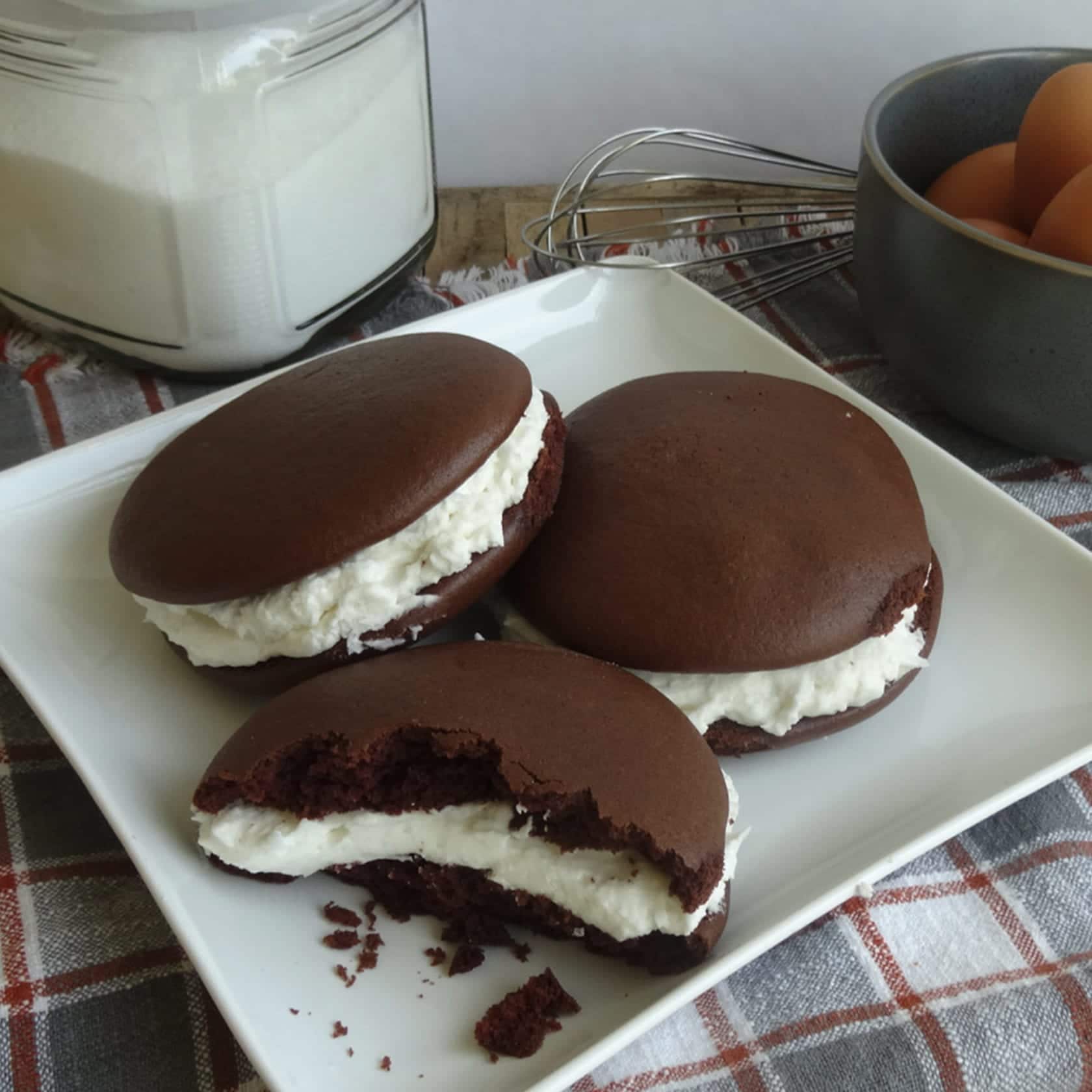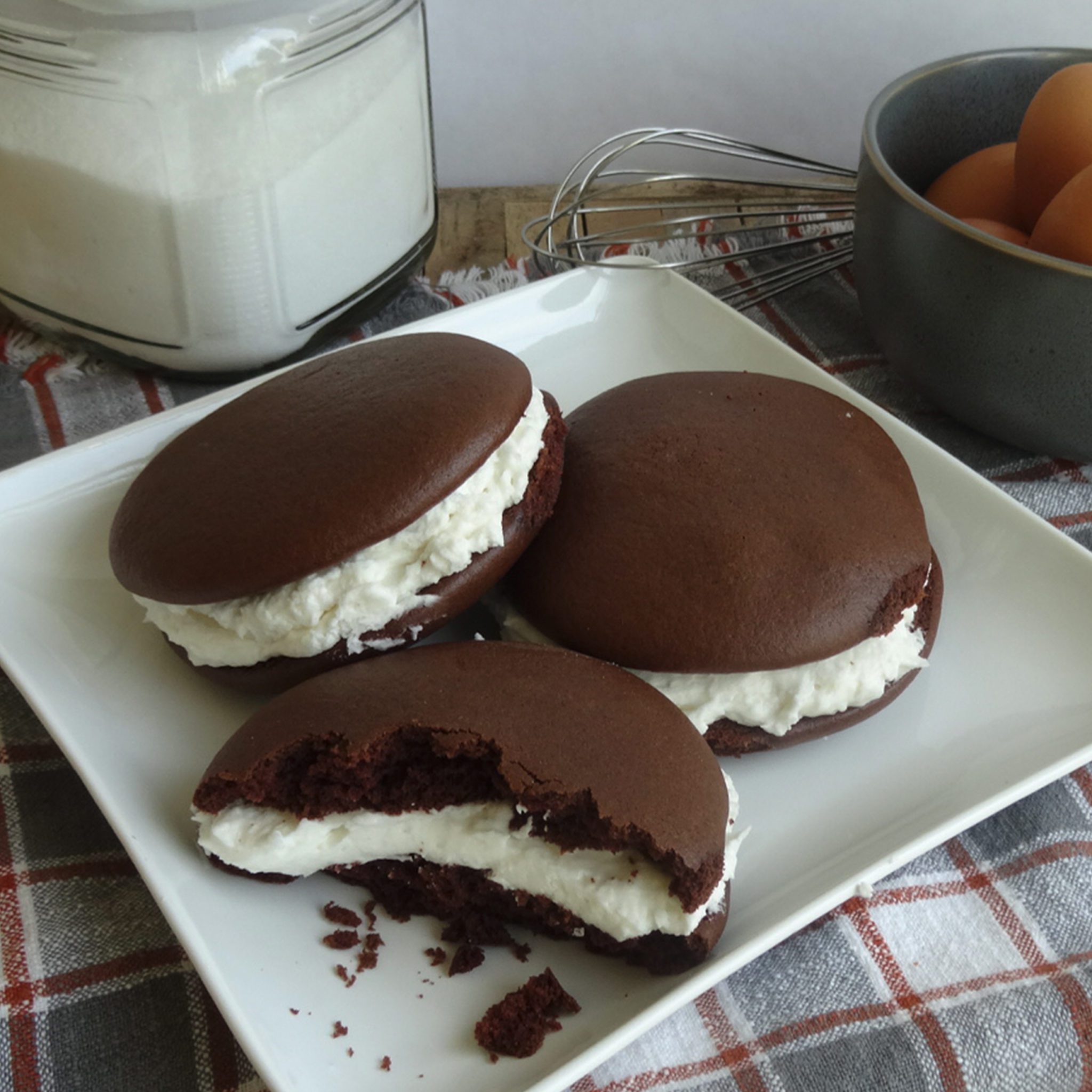 Where to Buy Whoopie Pies in Lancaster County
Sure, you can find whoopie pies just about anywhere in Lancaster County. But if you're looking for an authentic family recipe, stop by Bird-in-Hand Bakery & Cafe. Here, they have been making whoopie pies since 1978. The Lancaster bakery is known for their homemade baked goods featuring recipes passed down from generation to generation. They've taken the Amish classic and made it their own. At the bakery, you'll find jumbo whoopie pies in sampler packs with inviting flavors like original chocolate, peanut butter, or red velvet.
Whoopie pies make great gifts or the perfect sweet treat when paired with a cup of coffee. Shop online to find homemade whoopie pies from the local bakery in Bird-in-Hand. Or visit the Lancaster County bakery in person and taste test the delicious whoopie pies for yourself.