You can enjoy a great meal at just about any restaurant in Lancaster. Although when you visit Bird-in-Hand, you'll find some of the freshest quality food. At Bird-in-Hand Family Restaurant & Smorgasbord and Bird-in-Hand Bakery & Cafe, we serve fresh meat, vegetables, and fruit from local Lancaster County farms. Many farms are within minutes from our restaurants. We like to support farmers who share our passion for food quality and safety. To celebrate our synergies, we are highlighting some of our favorite partners.

Meet the farmer
Clair Kauffman, orchard manager at Kauffman's Fruit Farm, provides our restaurants with apples and peaches for our pies, baked goods, and artisan ice cream. Passionate about growing nourishing food for the community, Kauffman cares for over 30,000 fruit-bearing trees. Throughout their annual cycles of growth, fruit-bearing, and dormancy, Kauffman provides varying forms of care. Along with the farm's orchard staff, the farm practices soil care and fertility, pest management, tree planting, constructing trellises to train trees, pruning, harvesting, warehouse fulfillment, and post-harvest cold storage management.
Kauffman embraces each year at Kauffman's Fruit Farm and Market. "Each one is different," he said. "The combination of changing variables, mostly weather, keeps you on your toes." He likes to take advantage of various educational workshops and tours to hone his skills. In fact, he maintains a small trial block of apples, where he experiments with organic farm management techniques to continue his learning.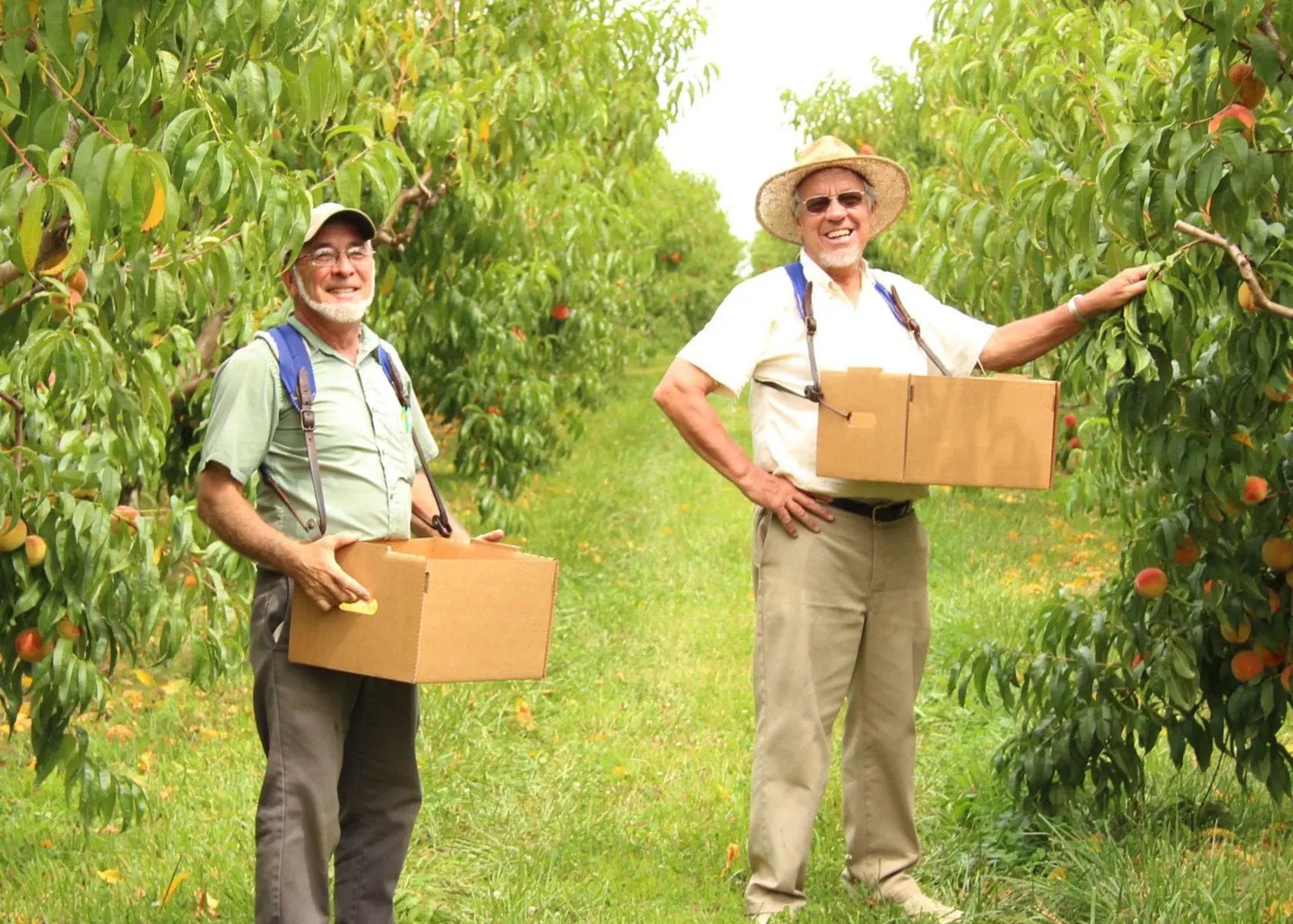 Why farming?
"I believe with all my heart that the quality of the food we eat, how we prepare it, and how we eat it has so much to do with our overall quality of life. I want it to be said that the food from our farm gives others life," said Kauffman. He is deeply invested in the trees on the farm. He finds they have taught him lessons, helped him invest in his health, and become a more sentimental human, connecting to the life of those before him.
On sustainable farming and safety
Kauffman's Fruit Farm believes in a sustainable farming approach called integrated pest management (IPM). The IPM strategy takes a natural approach to insect control, promising to use pest management tools that minimize human and ecological risk. This approach allows the farm to produce a viable crop that makes the best use of their time, labor, and money. In addition to IPM, the farm maintains food quality by maintaining a USDA Good Agricultural Practices food safety certification. With support from Kauffman's food safety director, Jeff Pauls, this certification further ensures the safety of the food sold to customers.

Significance of farm-to-table
Kauffman is a big believer in being informed about where you receive your food. "Never underestimate the price tag of your food." If your food has an artificially low price, Kauffman urges you to think hard about the consequences of that cost. Small farmers struggle to compete on national and global scales. However, they are working hard to conserve, in his opinion, one of our most precious resources: soil. In fact, he urges anyone who eats food from Kauffman's Fruit Farm to reach out directly to him to get info "straight from the horse's mouth." He believes everyone should have the opportunity to be informed and educated about the food grown for them to eat.
With a goal of a more sustainable way of consuming food, our Bird-in-Hand Family Restaurant & Smorgasbord and our Bird-in-Hand Bakery & Café support local farmers and their talents. We rely on seasonal ingredients and contribute to a more sustainable approach for the land. You truly can't beat the farm-fresh taste. Take the ultimate flavor-filled trip around Bird-in-Hand and dine at some of the best farm-to-fork restaurants in Lancaster County.