This Summer, immerse yourself in Pennsylvania Dutch Country, where delectable culinary experiences, comfortable lodging, and captivating entertainment await that will be sure to please the whole family. Discover all the exciting family activities that Lancaster, PA, has to offer, all within a short drive through the rolling farmland of Amish Country.
Spend a Relaxing Evening in the Country
One of the most delightful things about Lancaster, PA is the freshness and variety of locally grown and raised food. All summer long Bird-in-Hand hosts Cornfield Banquets so that our guests can delight in the flavors of the Farm-Fresh Menu and enjoy outdoor activities like hayrides, corn mazes, and music around the bonfire.
Each banquet is a mouthwatering feast that embodies the authentic taste of Lancaster County. Sink your teeth into tender barbecue chicken and freshly-picked corn on the cob, grilled to perfection right before your eyes. Treat yourself to the comforting goodness of Grandma Smucker's baked lima beans, Pennsylvania Dutch chow-chow, and of course, our famous whoopie pies straight from the Bird-in-Hand Bakery.
You don't want to miss this experience! There are only four Cornfield Banquets that occur throughout the summer, so reserve your seat at our table!
Laughter, Singing and Puppets, Too
Prepare for a barrel of laughs as Ryan & Friends, a vibrant ensemble that promises a memorable night of amusement for your entire family at the Bird-in-Hand Stage. Ryan gets an ear-full from witty 8-year-old Jeffrey, who lives in a suitcase and travels third class on airplanes, along with wise grandparents Harold and Irene (at least they think so) and animal friends Ardy the Skunk and Randy the Rooster—hilarious and high-energy friends who barely let him get a word in edge-wise.
You can choose to enjoy a meal with your show (prices vary for breakfast, lunch, and dinner) or just come with an appetite for laughs. Each performance is lively, with catchy songs, snappy comebacks, and a delightful dose of wisdom from this entertaining bunch of dummies.
Catch a Game at the Award Winning Stadium
What's summer without baseball? A proud member of Major League Baseball's Partner League, the Lancaster Barnstormers play their home games at fan-friendly Clipper Magazine Stadium on North Prince Street in Lancaster, about 20 minutes from Bird-in-Hand. Voted 'Best MLB Partner League Ballpark, once you get there, you'll see why – there's a kid's park with inflatables and a carousel, a special dugout for nursing mothers and a picnic area. You can even play cornhole while enjoying the day!
They have scheduled games all summer long and into early October against teams like the Long Island Ducks, York Revolution, Southern Maryland Blue Crabs, Charleston Dirty Birds, and more! Special events include Fireworks, Kids Run the Bases and much more. View their schedule here.
A Train Ride into History
You and your kids can step back in time with a ride on the Strasburg Rail Road, America's oldest operating railroad. Ride a real steam train from Ronks, about 15 minutes from Bird-in-Hand, to Paradise and back. During the 45-minute round trip, you'll see acres and acres of Amish farmland and can listen to an audio track with interesting facts and information about the railroad and surrounding area. You might want to pick up box lunches from Bird-in-Hand Bakery & Cafe and take the opportunity to get off the train at one of the picnic groves along the way. You'll also find a playground and other activities for the kids at the station in Ronks.
Cool Off at an Ice Cream Social
If you're staying with us, you're invited to join the Smucker Family for a delightful summertime gathering exclusively for guests of Bird-in-Hand lodging properties. Indulge in this special treat that awaits you at various locations throughout the 2023 summer season:
Mark your calendar for these joyful social gatherings, where the Smucker Family extends their warm hospitality to make your stay at Bird-in-Hand truly unforgettable.
Kids rule at Dutch Wonderland Amusement Park
If your family enjoys theme parks, Dutch Wonderland is only 10 minutes away, with more than 35 rides and shows like The Adventures of the Frog Prince, A Dragon's Tale, and the country music of Bubba Bear. Have a high-flying adventure on Merlin's Mayhem, a suspended family roller coaster; join Duke the Dragon for a splash in Duke's Lagoon with slides, spray nozzles and other water attractions, or relax under thatched umbrellas and palm trees; or discover more than 22 life-like dinosaurs on Exploration Island.
Get on the River
If your family prefers the natural world, the Susquehanna River and its tributaries provide a wide range of opportunities for fishing, tubing, canoeing, boating and kayaking in Lancaster County. The Susquehanna River Water Trail runs for 53 miles from Harrisburg to the Mason-Dixon Line. You can put your boat in at Chickies Rock Park or other ramp access points—just be sure to have the proper launch permit or unpowered registration from the Pennsylvania Fish and Boat Commission. Guided kayak and tubing trips are also available through several outfitters.
Beat the Summer Heat and Dive In!
If you prefer family fun in water that isn't moving, check out the 106-acre Speedwell Forge Lake above Lititz (33 minutes from Bird-in-Hand, PA). You can fish from the pier, put in an unpowered or electric boat, or enjoy a waterside picnic. Or visit Mt. Gretna Lake & Beach in Lebanon, about 25 miles north of Bird-in-Hand.
The family-owned facility has eight acres of sand beach, a recreation lawn, and a shaded picnic grove adjacent to Lake Conewago. It offers a guarded swimming area, kids' dock, diving board, high dive, and sand volleyball. You can rent canoes, kayaks, and inner tubes, as well as beach chairs and find other activities for kids. Tickets to Mt. Gretna Lake must be purchased in advance online.
A Hole in One at the Water's Edge
You can also enjoy cascading waterfalls, quiet streams and serene pools at Water's Edge Mini Golf, a short walk from your room at the Bird-in-Hand Family Inn. Test your skill on the beautiful miniature golf course—and don't forget to stop at the petting zoo, where the kids can feed goats, chickens and even a llama.
Make Your Own Summer Camp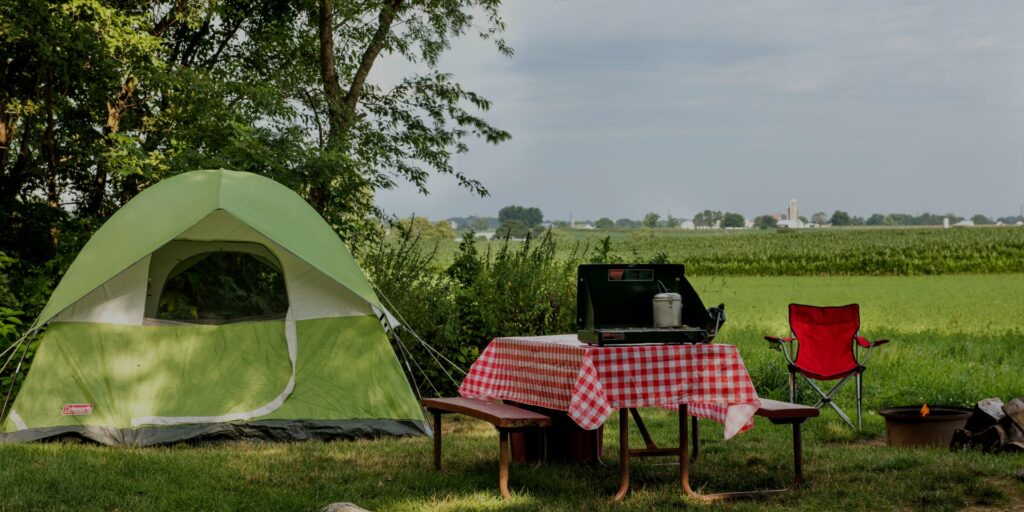 Spread out and enjoy the wide-open spaces at our family-friendly, pet-friendly Country Acres Campground. Bring your tent or pop-up, park your camper or RV, or stay in a cozy log cabin on our clean and quiet 18 acres.
Enjoy on-site amenities like an outdoor pool, playground, dog run, and other recreational facilities, or explore nearby attractions like Dutch Wonderland and Sight & Sound Theatres. When the day is over, take in the awesome view of the sky, far from lights of the big city, for a show of stars like you've never seen.
Feed the Soul with Farm-Fresh Food
Take an opportunity to show your kids where food comes from—and bring some of that freshness home for your table. You'll find lots of local markets and roadside stands throughout Lancaster County. You can pick up strawberries in season, along with hanging baskets and mums from Ephraim Huyard on Church Road in Bird-in-Hand and the kids can check out the farm.
Stop by Groff's Vegetables on Stumptown Road for homegrown lettuces, celery, candy onions, beets and cucumbers, or head to Stoltzfus Produce & Market Fare on Groffdale Road for fresh fruits and vegetables, canned goods and baked goods. And when the weather is hot, cool off with homemade root beer or hand-squeezed lemonade from Olde Heritage Homemade Root Beer & Gift Shop on Old Philadelphia Pike in Ronks.
So if you're looking for summer family activities, vacation ideas or easy road trips, you'll find lots of fun things to do with kids in Lancaster County, and Bird-in-Hand gives you easy access to all of them.