Camping has long been a favorite way to spend a vacation in Pennsylvania Dutch Country and across the United States. It has become even more popular in recent years as vacationers looked for more ways to spend time in the great outdoors. The campgrounds in Lancaster, PA, offer something for everyone. We've put together some of our favorite tips for camping in Lancaster, PA to help you make the most of your visit.
#1. Consider Your camping Style
What kind of experience do you want? Some people like to pitch a tent in a remote location and prepare supper over a fire or a propane camp stove. Others like the little luxuries offered by a fully-equipped recreational vehicle (RV) and electric hook-ups to power a TV or microwave, as well as the fellowship of other RVers. Still, others might prefer the rustic comforts of a cabin and access to recreational amenities for the kids. Some campgrounds only offer one or two types of camping.
Conveniently located about 3 miles from Bird-in-Hand, Country Acres Campground and RV park offers all the options, from primitive tenting sites to pull-thru big-rig sites with 50-amp electric service and cable. Known for cleanliness and friendliness, it also offers plenty of options in between, like pop-up sites with cable and rustic log cabins. If you want all the comforts of home, including indoor plumbing, go "glamping" with a full kitchen, bathroom with a shower, and space to sleep up to seven.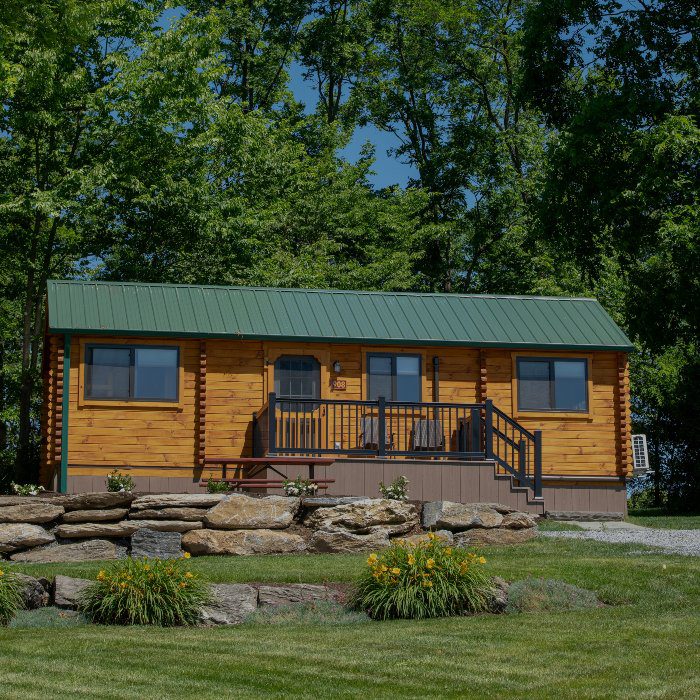 #2 Plan activities in advance
Sure, you might be perfectly content splashing in the pool by day and sitting around the campfire at night, but if you're making the trip to Lancaster County, why not take advantage of all we have to offer? If you're traveling with kids, look for a campground that puts you close to the Dutch Wonderland theme park, Cherry Crest Adventure Farm, or the Strasburg Rail Road. If you're interested in seeing a show, consider a site that's convenient to Sight & Sound Theatre, American Music Theatre, the Magic & Wonder Theater, or the Bird-in-Hand Stage.
Want to spend a day shopping for souvenirs? Country Acres Campground is close to all the best places, from Kitchen Kettle Village to The Shops @ Rockvale and Tanger Outlets, to downtown Lancaster, where you can browse the boutiques, stroll the 300 Block of North Queen Street and visit historic Lancaster Central Market. If you are staying at Country Acres Campground, be sure to schedule some time for our free two-hour guided bus tour of Amish farmlands or to book an Amish buggy ride to get a local's view of this unique region.
#3 Pick a Date
You can always find something special going on in Pennsylvania Dutch Country. You may want to plan your visit around a special event or check to see what's happening during your vacation time. Unique area events include outdoor auctions, known as "mud sales," that often benefit local fire departments and feature many Amish-made goods. Bird-in-Hand hosts unique Cornfield Banquets on the Smucker family farm in late summer and early fall. Plus, the Bird-in-Hand Half Marathon and the Lancaster Balloon Festival are both in September.
#4. Secure Your Site Soon
Spring, summer, and fall all are popular with campers in Lancaster County, and sites fill up fast. To make sure you get the site you want, check availability well in advance and book early. This is especially true if you are scheduling a trip around a holiday or special event, or if you plan on glamping in a deluxe cabin. Click here for Country Acres Campground 2022 rates and reservation information.
#5 Do a Dry Run
If you're new to camping or haven't done it in a while, or if you are using new equipment—say you've upgraded from a tent to a pop-up camper—experts suggest planning a backyard "campout" before your trip. This will help you identify anything you might need that you might have overlooked. Put together a packing list. If you do forget something, however, chances are that you can find it at the Country Acres Campground store.
#6 Plan for the Weather
Although Lancaster County is blessed with an average of about 200 days of sunny weather a year, remember that campground reservations are rain or shine. Pack some books or games in case a shower keeps you inside your tent, RV, or cabin. Bring along tarps to keep things dry in case of rain. Pack appropriate clothing for the weather in any season and remember that nights can be cool in spring and fall, so bring warm layers to add as needed.
#7 Bring Fido
Country Acres Campground tenting and RV guests are welcome to bring well-behaved dogs. (No pets are allowed on cabin sites.) The 18-acre campground has a fenced-in dog run where your dog can be off-leash. No matter where you are camping, remember to follow all leash laws and clean up after your dog. Remember to pack poop bags, along with toys and extra treats to keep your dog quiet. Experts recommend that if you leave the campground, you should take your dog with you whenever possible. It also helps to train your dog to remain calm when you are out of the site—training that should take place well before your planned trip.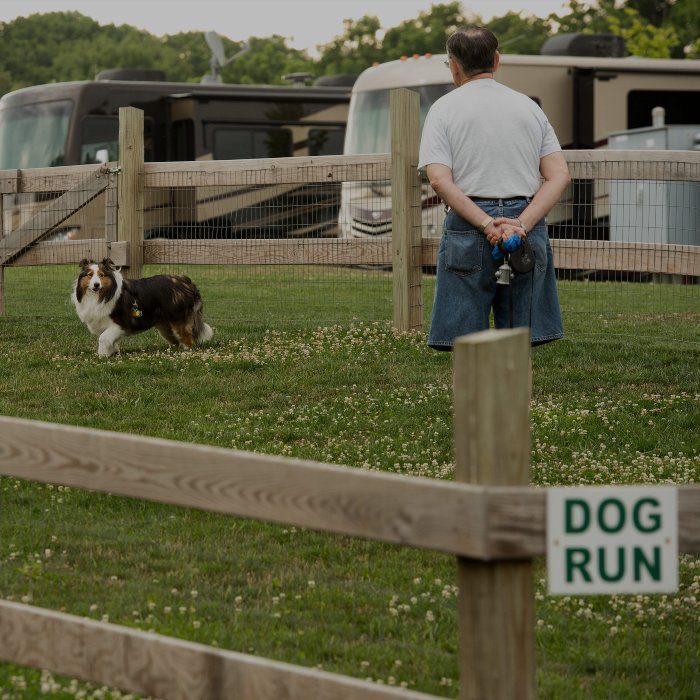 #8 Prevent Pests
Be aware of some insect pests that you might encounter. Around 2014, the spotted lanternfly was first identified in Pennsylvania. Since then, this invasive species has spread to at least nine states. To prevent the spread of this pest, which is harmful to orchards and vineyards, inspect vehicles, trailers, campers, and other equipment for any life stages of the spotted lanternfly before traveling. To prevent the spread of emerald ash borer and other wood-eating pests, use only firewood from within Pennsylvania. Firewood is available for purchase from the camp store at Country Acres.
The Northeast is known for several species of ticks, which can carry diseases. They are most often found in deep grasses and dense bushes. To prevent tick bites, cover your skin as much as possible and use a tick repellent on your skin and clothing. When you come inside, take a shower and check your clothing and body. If you find an attached tick, use tweezers to remove the tick by grabbing it as close to the skin as possible and pulling it straight up with steady pressure.
#9 Use an RV-specific GPS
If you're traveling by car, van, or small camper, most GPS units or even navigation apps on your phone are fine for getting you where you want to be. But if you're pulling a big rig, experts suggest investing in an RV-specific GPS unit. These devices can plan routes to avoid low overpasses and roads that have tight turns, steep grades, or other features that can make maneuvering with an RV difficult. Some may also give you a warning when traffic is slowing down, so you have plenty of time to apply the brakes.
#10 Check With the Experts
Need more tips to get you started on your Lancaster County camping trip? You can get expert advice and other resources at sites like PACamping.com and Good Sam. Safe travels—we hope to see you soon!