We're heading into the holiday season. As much as we love this time of year, it means spending a lot of time thinking about gift ideas for many of us. Good news! It's easy to find the perfect present for the one who has everything. Who wouldn't appreciate a gourmet gift basket loaded with fresh baked goods and other goodies from the heart of Pennsylvania Dutch Country? Ordering from our online store is the ideal solution, whether you see your gift recipient in person or are shipping to a family member or friend anywhere in the country.
SHOOFLY PIE IS SURE TO BE A HIT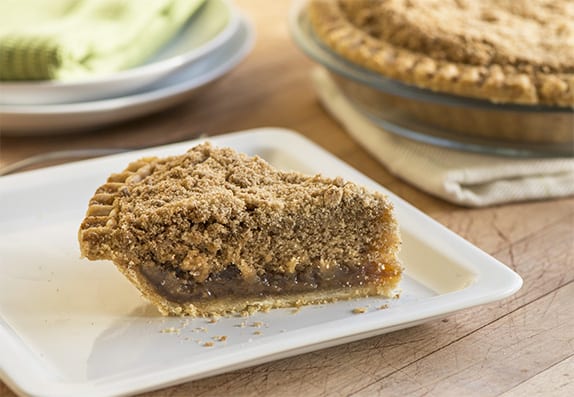 If you want to give a gift that brings back memories of Bird-in-Hand, pick a gift box or basket that includes our traditional Amish-style wet-bottom shoofly pie, which we still make according to Grandma Smucker's recipe. It uses syrup instead of molasses and farm-fresh eggs, brown sugar, and cinnamon for a sweet pie without any bitterness. Lots of people eat it for dessert, but we think a slice of shoofly pie with a cup of coffee is a great way to start the day.
For the shoofly pie lover on your list, consider a Shoofly Pie Gift Box with a 10-inch pie or the Shoofly Pie Bonus Gift Bundle, which includes three individually boxed 10-inch pies plus a bonus six-count package of whoopie pies. Our bakery also makes traditional Southern-style pecan pie, with Georgia pecans, eggs and butter in our scratch-made crust. The Double Delight Pie Lover's Gift Box includes two 10-inch pies – pecan, shoofly, or one of each. If you're looking for corporate gifts, all of these items are available for bulk orders.
WOW THEM WITH WHOOPIE PIES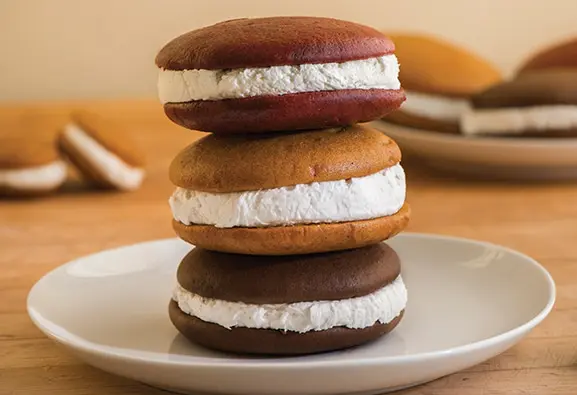 Bird-in-Hand Bakery is also famous for our scratch-made jumbo whoopie pies. Our take on the classic Amish treat features large layers of home-baked cake with an extra-smooth and creamy filling. They're available in traditional chocolate with vanilla filling and a variety of other flavor combinations, including chocolate with peanut butter filling, red velvet with buttercream filling, and pumpkin with vanilla filling, as well as other seasonal flavors. Can't make up your mind? Order the Whoopie Pie Sampler Gift Box, which includes a dozen, and select up to four different flavor combinations. Or choose the Shoofly Pie Plus Whoopie Pie Sampler, with a 10-inch pie and six whoopie pies in up to two different flavors. Just want a taste? Try Grandma Smucker's Goodies Gift Box, with two small shoofly pies and three of our jumbo chocolate whoopie pies. 
DELUXE TREATS FROM DUTCH COUNTRY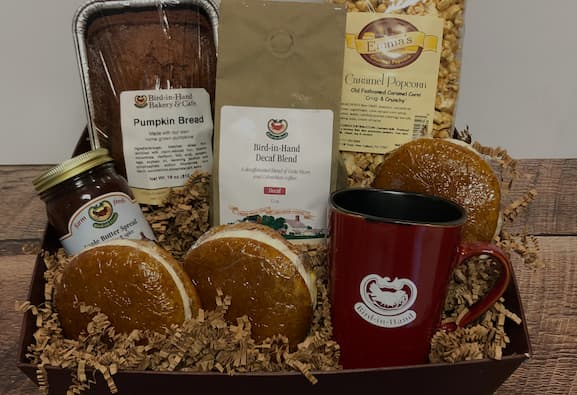 Our online store has something for every taste and budget. Looking for a simple hostess gift or a delicious way to say "thank you"? Consider the Coffee Break Gift Set, which includes a souvenir Bird-in-Hand coffee mug along with a package of our fresh-roasted Bird-in-Hand Signature Blend Coffee in regular or decaf; ground, whole bean, or K-cups. Know someone with a sweet tooth? Treat them to our Deluxe Bakery Gift Basket, with a sampling of our traditional Pennsylvania Dutch baked goods and delicious fruit spreads, all in a reusable basket. Have an appetite for more? The Taste of Lancaster County Gift Crate pairs our coffee and souvenir mug with a selection of our fresh baked goods, as well as other locally-made treats. Each gift ships in a unique rustic crate that can be repurposed for various creative uses.
SEASONAL SPECIALTIES
Our Gourmet Gift Baskets & Gift Sets won't disappoint if you know someone whose favorite fall flavor is pumpkin. Our Autumn Delight Gift Box includes three pumpkin whoopie pies and a loaf of our pumpkin bread—both made with our homegrown pumpkins—along with a package of our coffee, a souvenir coffee mug and a selection of other Lancaster County goodies. Another seasonal gift item that's sure to please is our Happy Holidays Gift Crate, packed with our Amish-style baked goods like Grandma Smucker's shoofly pie and a whoopie pie sampler, along with a selection of locally made snacks, such as Emma's White Peppermint Crunch Popcorn and Hammond's pretzels, as well as our jam and apple butter. It also includes a package of our signature blend coffee and a festive mug, all in a reusable gift crate. For the sweet tooth on your holiday gift list, Santa's Sweets Gift Box holds an 8-inch shoofly pie, four Jumbo Chocolate Original Whoopie Pies, a dozen assorted cookies fresh from our bakery, Emma's Red & Green Sweet & Salty Popcorn—all ready to give in a holiday-themed box with a decorative ornament.
ABOUT YOUR ORDER
All of our gift items come attractively packaged and suitable for giving, although they may not look exactly as pictured. We reserve the right to substitute items of equal value if necessary due to product availability.
We'll ship throughout the United States, using 2nd Day Air for any location beyond the East Coast to retain freshness.
If you live in or near Lancaster County, you can call or stop in to place an order and pick it up at our bakery.
Are you still stuck for gift ideas? Our online store also offers books, cookies, specialty breads, gift cards and other Lancaster County souvenirs.