Spring is around the corner, and love is in the air. Many guests who come to Bird-in-Hand's historic Village Inn & Suites for a romantic stay ask our innkeepers about things to do in Lancaster, PA, for couples. We've compiled what we think are some of the best places for couples to go on a Lancaster County date night.
GO OUT ON THE TOWN
From 5 p.m. until 9 p.m. on the First Friday of each month, Lancaster City celebrates arts and culture with a variety of special events and more. Galleries, restaurants, shops and museums in downtown Lancaster stay open late, and folks flock from far and wide to take in the festive atmosphere. Start your evening by browsing the studios along Gallery Row on North Prince Street, then see where the energy takes you!
TAKE A LOOK AT LITITZ
North of downtown Lancaster, less than 30 minutes from Bird-in-Hand, the town of Lititz offers lots of great date possibilities. Spend some time strolling the streets of the historic town and browsing unique shops for art, apparel, books, home goods, jewelry and more. Take in a meal, choosing from casual cafes and pub fare to specialty foods and fine dining, from classic American cuisine to Brazilian, Italian, Mexican and more. Prefer to cook for yourself?
Why not sign up for a cooking class? Zest schedules cooking classes for chefs and would-be chefs of all skill levels, including Date Night programs on topics like Indian Inspirations, What's Brewing and A Trip to the UK.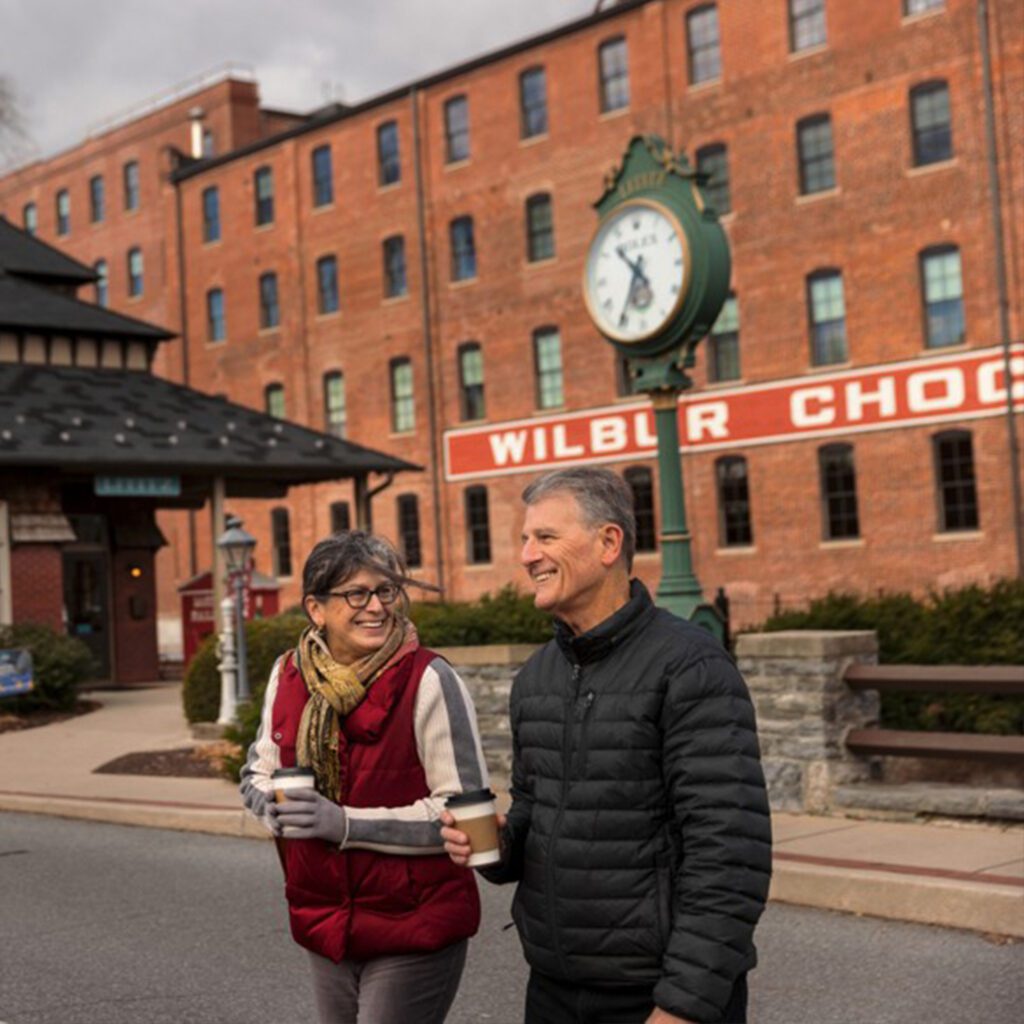 GET CREATIVE
Enjoy relaxing conversation while you connect with your inner painter or potter. In downtown Lancaster, just around the corner from Central Market, The PotteryWorks is a paint-your-own-pottery studio that doesn't require advance reservations. Choose from a wide variety of ready-to-glaze bisque—from teapots and candle holders, planters and coasters to animals and whimsical statues of unicorns and gnomes. They'll show you how the glazes work and fire the pieces when you're done painting. Fired pieces are ready for pick up in about a week.
Painting With a Twist, just west of downtown Lancaster, about 20 minutes from the Village Inn & Suites, now offers "Pop in and Paint" experiences on weekdays. Drop in during walk-in hours, pick a project, and paint! They'll provide all materials and instructions. Or reserve your spots for one of their evening Date Night sessions and paint one of their romantically themed single or set paintings, like Lovers Moon, Nebula love or Lovers Paradise. Bring your own wine.
SPEAKING OF WINE…
If you're looking for the perfect bottle of wine to bring to paint night or just want to taste the bounty of the local vineyards, follow the Lancaster County Winery Trail. You'll find a dozen wineries in and around the county, including Allegro Winery in Strasburg and Meduseld Meadery in Lancaster—both only minutes from Bird-in-Hand. You could drive to Mannheim to visit Waltz Vineyards or add a Lancaster County Wine Tasting to your stay at the Village Inn and Suites.
This romantic experience includes a wine tasting for two at the Waltz Vineyards Wine Shop at Kitchen Kettle Village, a complimentary cheese and cracker tray for your enjoyment, a deluxe continental breakfast and a complimentary two-hour guided tour of Amish farmlands.
ENTERTAIN YOUR INNER CHILDREN
What's love without lots of lighthearted fun? In April, Waters Edge Mini Golf in Bird-in-Hand opens for the season. Enjoy some friendly competition in a gorgeous setting, surrounded by cascading waterfalls, gently rolling streams, serene ponds and gardens bursting with colorful plants. Or enjoy dinner, bowl a set or play retro arcade games like Donkey Kong and SkeeBall at Decades, which offers amusements and fare at its location in the historic Stahr Armory on North Queen Street in Lancaster. Don't want to share your special date with kids? Decades is 21+ after 8:30 p.m.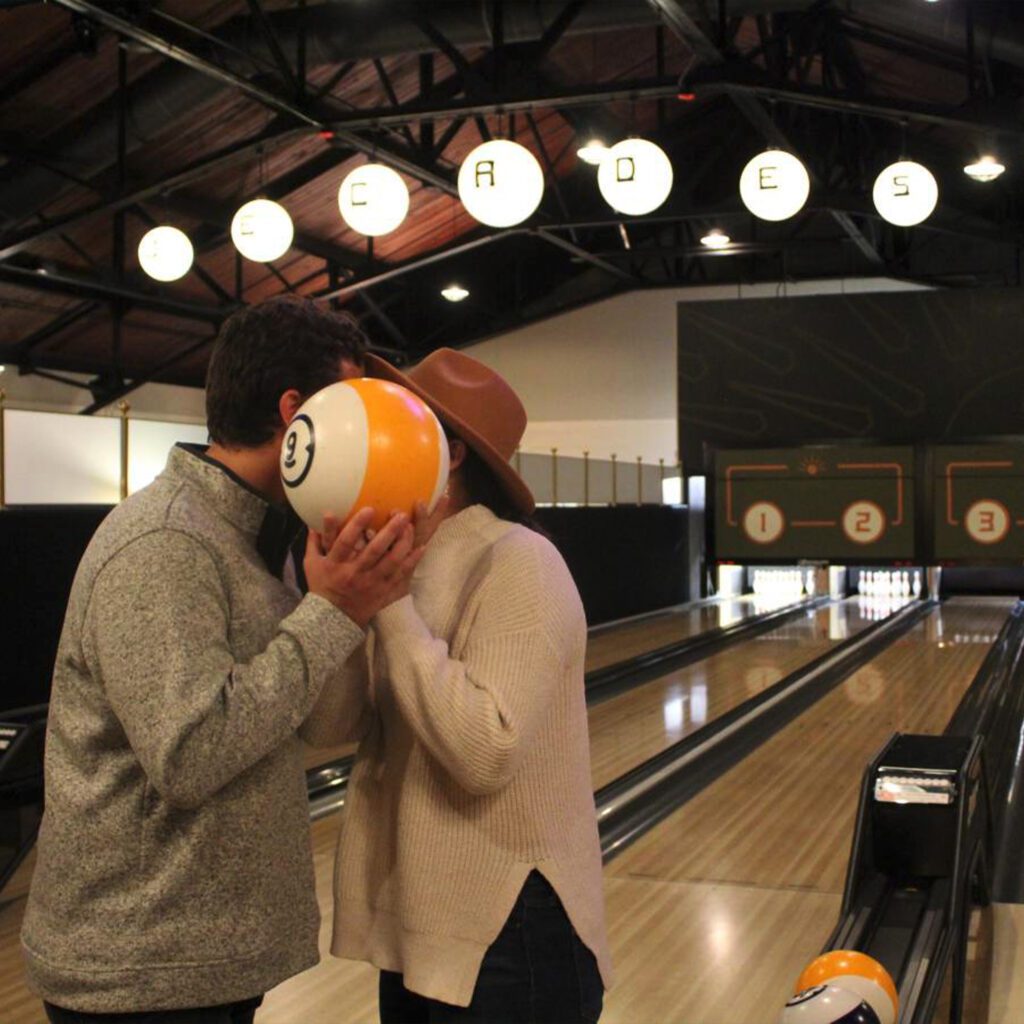 Another Lancaster hot spot that combines eating and entertainment, Zoetropolis Cinema Stillhouse on Water Street screens independent and art house films and serves dinner around showtimes. On weekends, you can have brunch and catch a matinee.
What could be more romantic than a ride in a hot air balloon, with a breathtaking view of rolling green hills and Amish Country farmlands? Lancaster Balloon Rides offers an experience you'll never forget, including a Perfectly Private Hot Air Balloon Ride for 2. You can help set up the balloon, soar for about an hour, then travel back to the launch point, where you can enjoy a champagne toast and light snack with the pilot and crew. You'll also receive a certificate as a memento of your flight. Be sure to bring a camera!
DO DINNER AND A SHOW
Maybe you're a traditionalist whose idea of a great date is dinner and a show. Bird-in-Hand is the perfect place to be if you want to take in live entertainment. We are within minutes of several stages. In downtown Lancaster, the Fulton Theatre (once the opera house) offers Broadway musicals like The Wiz, Titanic and Grease and a Studio Series of cutting-edge drama, including Who's Afraid of Virginia Woolf.
East of Lancaster and less than 10 minutes from Bird-in-Hand, American Music Theatre offers a mix of something to suit every musical taste, from Broadway and classical to Gospel, to country, oldies and pop/rock. They bring in Grammy and Country Music Association award-winners like The Oak Ridge Boys, Englebert Humperdinck and Amy Grant, as well as tribute bands, comedians and original shows. Ten minutes south of Bird-in-Hand, Sight & Sound Theatre is famous for lavishly staged Bible stories. In 2023, Moses opens in March and runs through early October, bringing the story to life with massive sets, special effects and live animals.
For dinner and a show at the same site, check out the Dutch Apple Dinner Theatre, just west of downtown Lancaster and about 20 minutes from Bird-in-Hand. This year's spring shows include Sister Act and Footloose. Or you could stay right here in the village. You can satisfy your appetite at our Pennsylvania Dutch-style smorgasbord and then take in a wholesome, uplifting show just a few footsteps away on our very own Bird-in-Hand Stage, where we have two shows opening the first week of April. Dear Soldier Boy, a brand-new musical comedy set in Amish Country, will run through July 27, 2023. And our friend Ryan is back with an updated show, Ryan & Friends: Never Speechless, combining music, comedy and more. You'll love every minute of it!
We hope to see you and your date soon!