If you're looking for things to do in December, consider Lancaster County. Whether you live locally or are visiting or vacationing, you'll find lots of Christmas activities near Bird-in-Hand to help you create lasting holiday memories. Here is a list of our Top 5 favorites for the 2021 holiday season.
1. See a Live Stage Show
You don't have to navigate subway schedules or deal with big-city crowds in order to enjoy high-quality Broadway-style live entertainment. Audiences are raving about The Christmas Tree Ship on our Stage now through Jan. 1. Based on the inspirational true story of the Schuenemann family, this dramatic new musical tells of a storm, a shipwreck and the heroic efforts of a widow and her daughter to save "Captain Santa's" legacy. It's a heart-warming reminder of the importance of tradition, kindness and the joy of Christmas.
Just west of the Bird-in-Hand Stage, American Music Theatre presents its 2021 Christmas Show: Winter Wonderland, its newest original show, featuring your favorite sacred and secular songs of the season, extraordinary costumes and sets that will take you to a Bavarian mountain village, the North Pole and more. The show is two hours, including intermission, and runs through the end of December.
About 10 minutes from our Stage, on US Route 30, the new Magic & Wonder Theater presents Believe now through Jan. 1. In this heart-warming 90-minute show, the popular illusionist Brett Myers and his cast present a one-of-a-kind combination of illusions, comedy, costumes and music that brings toys to life and makes wishes come true.
2. Ride Strasburg Railroad's Christmas Train
If your favorite holiday memories involve model trains under the tree, imagine how magical a ride on a real Christmas train would be! The Strasburg Railroad is just 5 miles from our Bird-in-Hand Family Inn, and it offers a variety of unique experiences for the holidays. Santa's Christmas Trolley is an exclusive 45-minute ride through Pennsylvania Dutch Country aboard the historic, one-of-a-kind self-propelled Lancaster, Oxford & Southern Motorcar. Children ages 11 and under can sit with Santa Claus and have their pictures taken.
Since 1959, Strasburg Railroad has offered Santa's Paradise Express Coach rides aboard its steam train. Youngsters receive a gift from Santa and his helpers. They can also drop off letters to Santa in the North Pole Express mailbox, along with a self-addressed stamped envelope for a reply. And all ages will love the Night Before Christmas Train Coach while remembering Clement Clarke Moore's classic poem, "The Night Before Christmas," as the train wheels clickety-clack. Passengers can choose between the lounge car with swiveling captain's seats or the authentically restored Victorian coach car.
To check availability and make reservations, visit the Strasburg Railroad website.
.
3. Visit Kitchen Kettle Village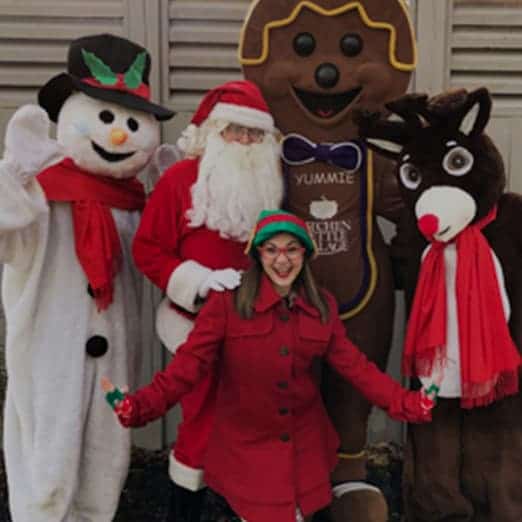 With more than 40 unique stores, two restaurants and a full calendar of seasonal special events, Kitchen Kettle Village draws visitors from near and far. Located within walking distance of Travelers Rest Motel, this charming shopping destination began as a home-based canning business in 1954.
Today it is one of Lancaster County's most popular attractions. It still has a working canning kitchen, and if you drop by The Jam & Relish Kitchen, you can sample their homemade jams, and browse a variety of Pennsylvania Dutch canned and baked goods, relish, salsa, pickles and more. Retailers offer a wide variety of wares from local artisans as well as nationally known brands, and you'll find delicious goodies at Aged and Cured, Mom's Pretzels, The Roasted Rooster and many others.
The holiday season is a great time to wander through the village, shopping for gifts and enjoying the aromas of freshly baked goodies or a warm beverage. You can hear live music on Saturdays, and the shops stay open until 8 p.m. on Fridays. Plan your visit on Friday, Dec. 17, for a self-guided Holiday Flavors Tasting Tour, with stops at participating foodie shops throughout the village from 4–7 p.m. The $20 package includes generous samples and personalized service.
Are you traveling with the kids? Don't miss Holiday Family Fun with Santa & Friends on Saturdays through Dec. 18. Tickets include a voucher for lunch at the Harvest Cafe, a homemade cookie from the Bake Shop, a stocking for children under 10, photo opportunities with Santa and a treasure map with offers for each adult. For tickets, call (800) 732-3538 or book online. If you want to make a mini-vacation weekend out of it, our family-friendly, resort-style Bird-in-Hand Family Inn is just minutes from Kitchen Kettle Village.
4. Spend a Day at Dutch Winter Wonderland
Dutch Wonderland in Lancaster bills itself as "A Kingdom for Kids with dozens of rides and attractions." On Saturdays, Sundays and select weekdays through Jan. 2, its Dutch Winter Wonderland event features themed rides, special entertainment and thousands of dazzling twinkle lights. Find unique gifts by local vendors at a Lancaster Craft Market on December 18–19. Dutch Winter Wonderland also has visits with Santa and Duke's Diamond New Year's, an exclusive kids' party on New Year's Eve.
5. Go Scootin' With Santa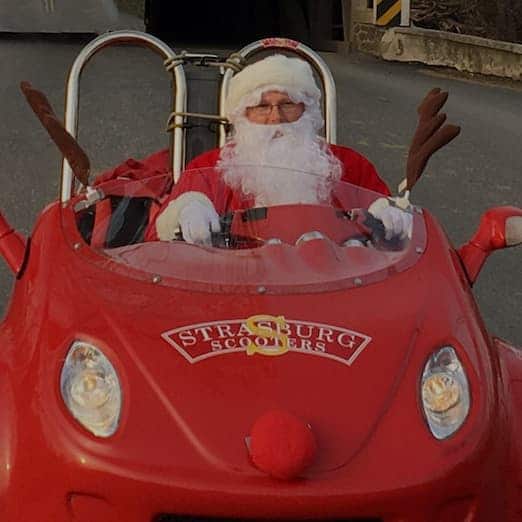 For a high-octane holiday experience, licensed drivers can hop aboard a 50cc "Scoot Coupe" for a scenic ride through the back roads of Lancaster County. Ensconced in his little red coupe, St. Nick himself will lead the Scootin' With Santa tours, which are offered on Saturdays and Sundays through Dec. 19. With start times at noon and 3 p.m., each ride lasts approximately 90 minutes to two hours and takes participants over bridges, through woods and across the countryside. Strasburg Scooters holds a mandatory safety presentation 30 minutes before each scheduled ride. Learn about holiday traditions in Lancaster County as you search for the elusive "Amish Christmas Lights" and reconnect with the open road. Reservations required.
Tickets may be limited for many holiday events and happenings here in Lancaster County. Be sure to check the organization's website for availability and COVID precautions to avoid disappointment. And when you are visiting the area, consider taking advantage of the hospitality you'll always find at all Bird-in-Hand entertainment, dining and lodging venues.