It's been a long, cold winter and you're probably feeling like you've been cooped up way too long. If you need to get out of the house, consider a day (or a stay) in Bird-in-Hand, where you can enjoy the wide-open spaces of Lancaster County with plenty of room to distance and lots of outdoor things to do.
1. TAKE A HIKE
Lancaster County offers miles of both hiking and mixed-use trails. From Bird-in-Hand, it's about 15 minutes to Lancaster County Central Park, on the south side of Lancaster City. The largest public green space in the county, it has more than 13 miles of interconnected trails. North of the city, Landis Woods offers hiking paths through preserved natural lands and a native planting area. You can find easy hikes in nearby Columbia at the Turkey Hill Nature Preserve, Try the 3.5-mile scenic trail overlooking the Susquehanna River. Feeling more ambitious? Get a meal to go from Bird-in-Hand Bakery & Cafe and then hit a section of the 60-mile, orange-blazed Conestoga Trail, which cuts north/south through the county, through rolling hills and farmlands, passing covered bridges and other sights. The Conestoga's northern end meets the yellow-blazed Horseshoe Trail, which runs from Valley Forge National Park to the Appalachian Trail at Stony Mountain north of Hershey. If that's more than you want to take on, consider a moderate 3.9-mile hike along a section near Lititz that features beautiful wildflowers in season.
2. USE SOME PEDAL POWER
If you'd rather see the sights by bike, the scenic Warwick-to-Ephrata Rail Trail offers more than 7 miles of asphalt and crushed stone surface for biking with no vehicle traffic. It follows the former Reading and Columbia Railroad from Lititz to Ephrata. If you want to avoid hills, try the Enola Low-Grade Trail on the flatlands along the Susquehanna.
Didn't bring your bike? No problem! Lititz Bikeworks rents standard bikes through its Bike Share experience on the Warwick to Ephrata trail. Pick up the bike at 315 Clay Road in Lititz and pay by phone. Or you can rent an electric bicycle from the Bikeworks shop in Lititz. Although Bikeworks currently is not offering private bike tours, self-guided tours are included with bike rentals.
3. …OR PADDLE POWER
If you'd rather be on the water than on the road, you're in luck. Chiques Rock Outfitters in Columbia rents single and tandem sit-on-top kayaks, complete with paddles, life vests, and basic instruction. They also offer pedal/paddle packages, as well as a Conejohela Flats Paddle package—great for beginners and birdwatchers alike. If you have your own canoe or kayak, you'll find plenty of places to put in along the 60-mile Conestoga River Water Trail, which runs through Lancaster County before joining the Susquehanna.
4. SCOOTER RIDES
Scooters are a great option for seeing Amish Country. You can ride along back roads through rolling farmlands, taking in hidden gems that you might miss by car. With locations in Strasburg and Bird-in-Hand, Strasburg Scooters offers guided scooter tours of the area on single- or double-seat scooters or two-seater scoot coupes. We offer a Stay & Scoot package that includes a Country Roads Excursion tour for two, lodging at Bird-in-Hand Village Inn & Suites, plus breakfast and lunch or dinner.
5. GO CLIMB A ROCK
If the hills are calling to you, add North Fork Adventures to your outdoor things-to-do list for guided rock climbing and instruction at sites around Lancaster County. They offer private guiding, as well as private and scheduled group instruction on rock climbing basics, top rope and sport climbing skills, multi-pitch climbing, self-rescue, and traditional lead climbing. They even offer a Climbing Wall Instructor certification program.
6. TRY SKYDIVING
For an experience you'll never forget, try stepping out of a plane into free fall. Skydive Lancaster operates out of Smoketown Airport, just off Old Philadelphia Pike about five minutes from Bird-in-Hand. With about half an hour of training, you can make a tandem jump, attached to a highly experienced tandem instructor who is responsible for operating all the equipment. If you want a souvenir, they can even arrange to have a video of your skydive.
7. SOAR IN A HOT AIR BALLOON
Another way to get a bird's eye view of Lancaster County is to soar over it in the gondola of a hot air balloon. The United States Hot Air Balloon Team offers shared and private balloon flights, which consistently earn five-star ratings from guests. You can help assemble the balloon and then drift on the breeze over Amish farmlands, rolling hills and woodlands, and towns like Bird-in-Hand, New Holland, and Ephrata. You might even meet an Amish family when you land on a farm.
8. ENJOY FAMILY FUN ON THE FARM
If you're traveling to Lancaster County with youngsters in spring, summer, or fall, they can experience our rural lifestyle while having fun at Cherry Crest Adventure Farm in Ronks. The original farm dates back to the early 1700s. Today, an active solar farm with more than 300 acres of crops, Cherry Crest has dedicated 15 acres to family adventures, with more than 50 farm fun activities, including a hay chute slide, corn maze, jump pillow, farm tour wagon ride, petting zoo, and farm experience center.
9. ZOOM ON A ZIPLINE
Young visitors ages 5 and older might also enjoy ziplining Refreshing Mountain Adventure and Retreat Center in Stevens, about half an hour north of Bird-in-Hand. Designed for safety, these aerial excursions take you through the forest canopy on a series of cables and platforms. They also rent GoPro video cameras so you can take home a sharable memory of your experience. In addition to multiple zipline trails, Refreshing Mountain also has an interactive Wildlife Center, where your kids can learn about the wildlife of Pennsylvania and reptiles and amphibians of the world.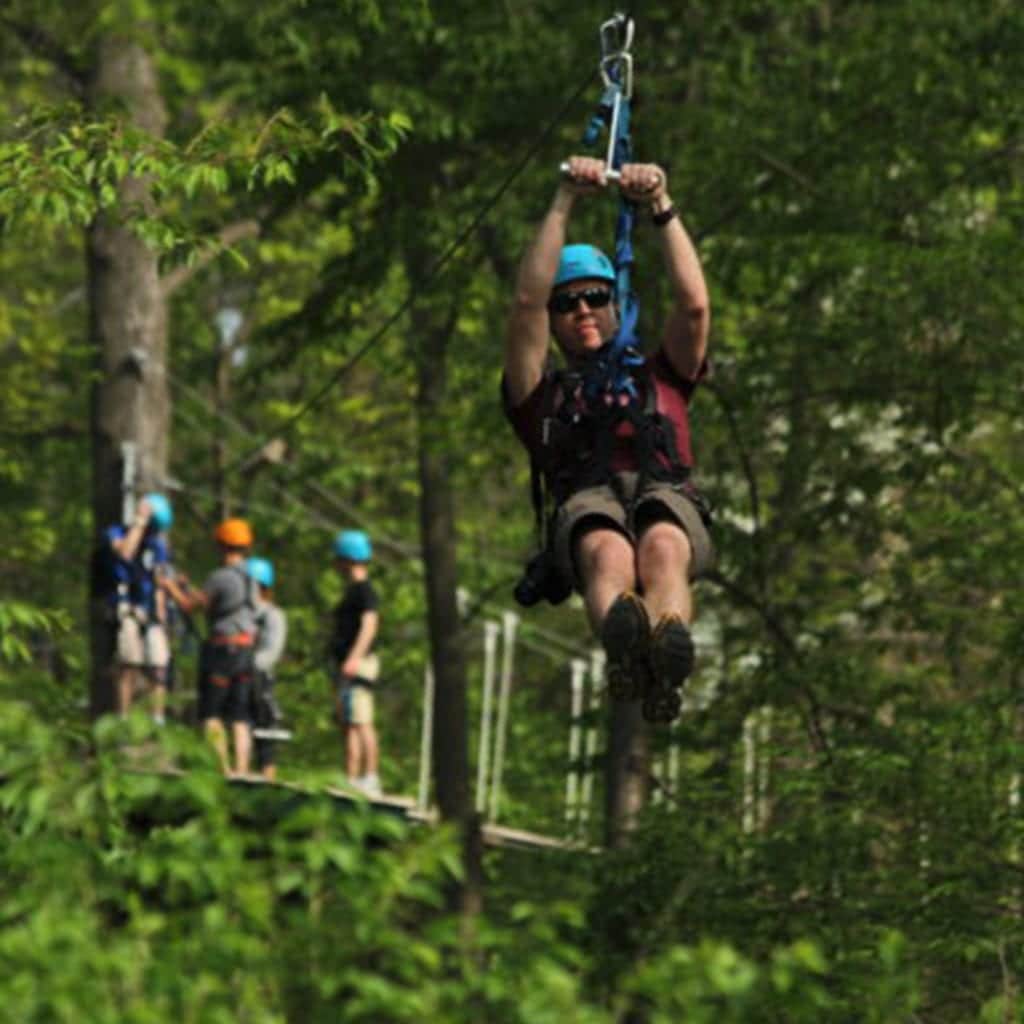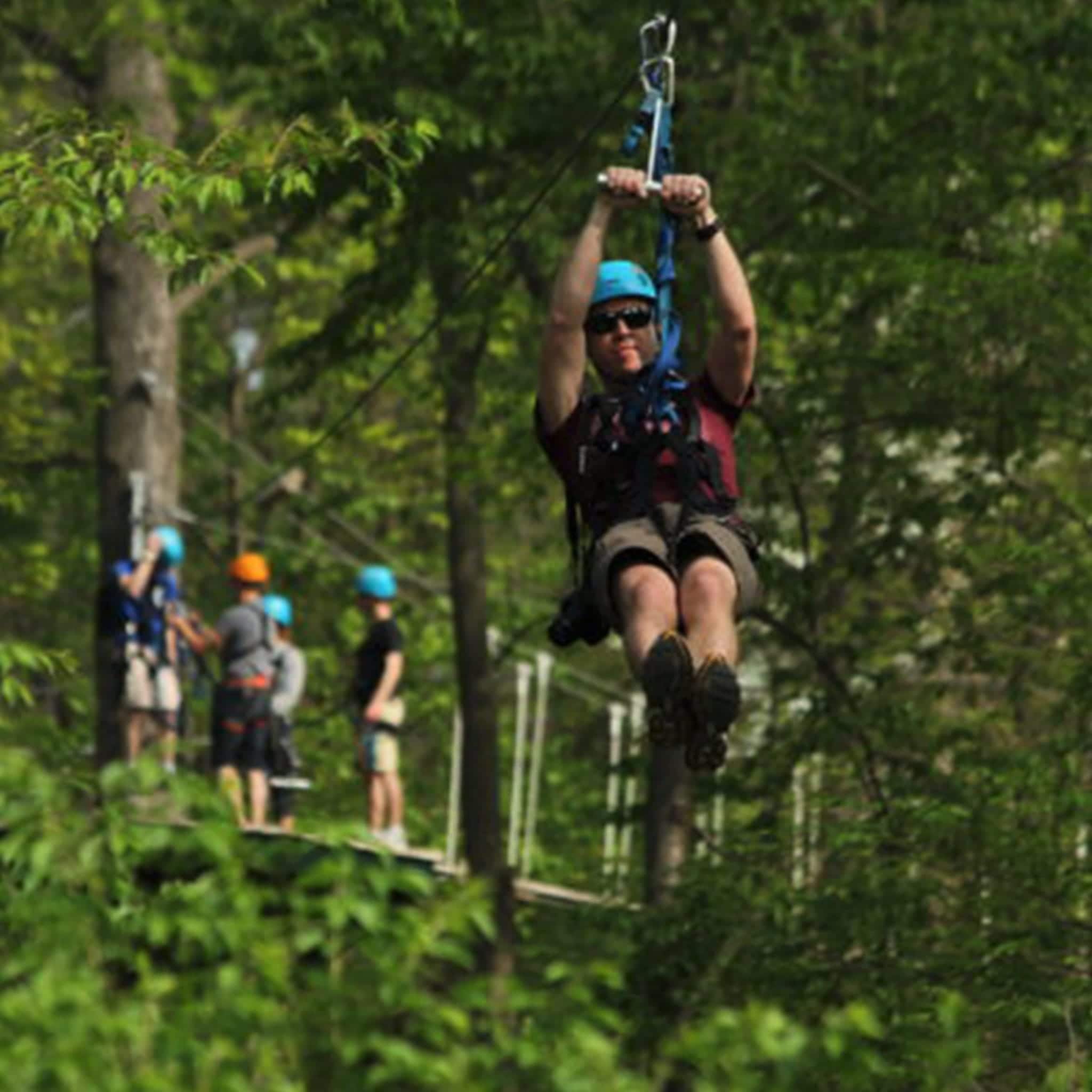 Refreshing Mountain Adventure and Retreat Center
10. GO BUGGY
If you're really looking for the quintessential outdoor experience in Lancaster County, you'll find it right here in Bird-in-Hand. The friendly guides at Abe's Buggy Rides will take you and your party on a private countryside ride in an authentic Amish buggy. You can choose a route from 2 to 6.5 miles long. The guides are happy to answer your questions and you can stop along the way to get a closer look. Allow some time to visit the horse barn and shop for locally made Amish craft items. Or pick up a meal to go from Bird-in-Hand Bakery & Cafe and enjoy it in Abe's picnic area before or after your buggy ride.
Whatever you decide to do on your Dutch Country visit, remember that Bird-in-Hand provides easy access to the best Lancaster County outdoor activities and much more, and offers a variety of lodging and dining options. Great memories start here!