Handmade Pecan Pies Shipped & Delivered to Your Door
If you want an authentic American dessert, you can buy pecan pie online from Bird-in-Hand. Made from one of our favorite family recipes, our traditional Southern pecan pie is a special treat that your family will love and you'll be proud to serve to your dinner guests. It also makes a welcome gift. It's delicious by itself or served with a scoop of vanilla ice cream. Like all our famous baked goods, we ship it fresh from our Bird-in-Hand Bakery & Cafe, and we offer pecan pie delivery anywhere in the United States.
Order Now
You Can Taste the Care We Bake Into Every Pie
We make our pecan pie from scratch in our own bakery. Our secret recipe combines whole Georgia pecans, brown sugar, farm-fresh eggs and butter, and more fresh ingredients all in our handmade pie crust. The result is a dessert that delivers all the classic flavors—and tastes great with a cup of our house-blend coffee. What's more, it freezes well. So, if you're looking for pecan pie online, order one for now and one to keep in the freezer for a special occasion.
See All Our Varieties:
Order Your Pecan Pies Online Today!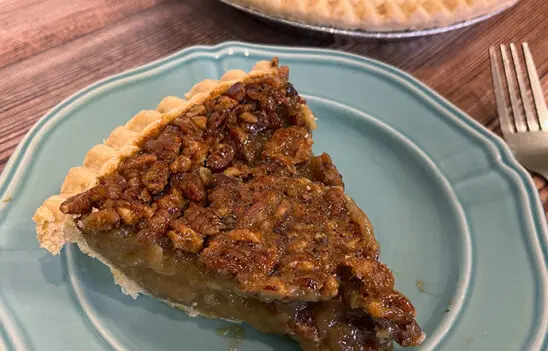 $14.95
A traditional Southern pecan pie made with Georgia pecans. We suggest freezing our pecan pies if you are not going to consume them within 1–2 days after…
Add To Cart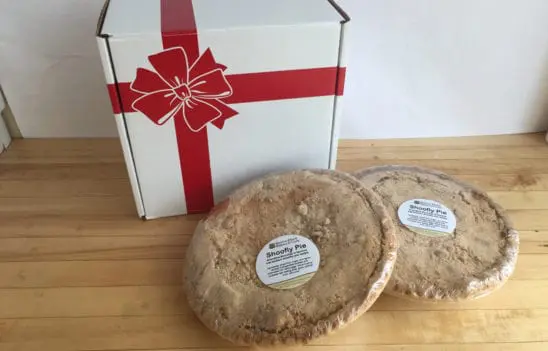 $34.70
Grandma Smucker's Shoofly Pie is a favorite of visitors to Lancaster County. Fresh from our bakery, our Amish-style wet-bottom shoofly pie features a mouthwatering…
Select Options
More Great Gifts & Goodies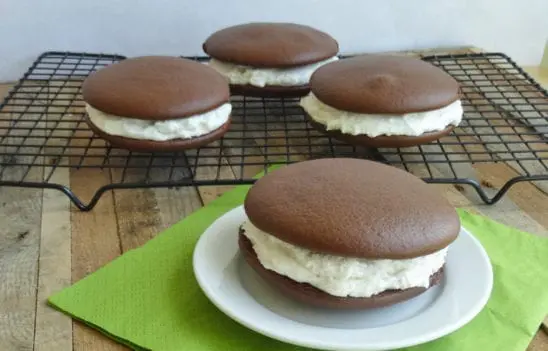 $16.50
Our Jumbo Original Whoopie Pies are a true Amish Country classic. Our Lancaster County whoopie pies give you more of what you love. Two oversized layers of…
Select Options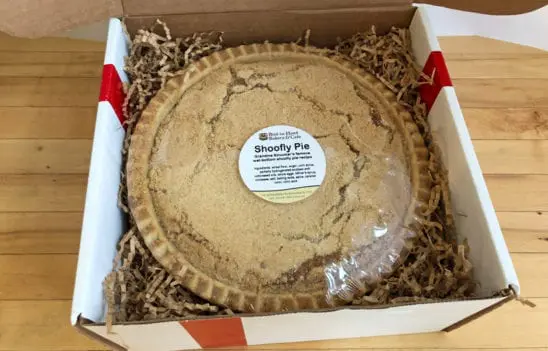 $19.75
In Amish Country and beyond, we're famous for Grandma Smucker's Shoofly Pie. Our traditional Pennsylvania Dutch wet-bottom shoofly pie is made from an old…
Add To Cart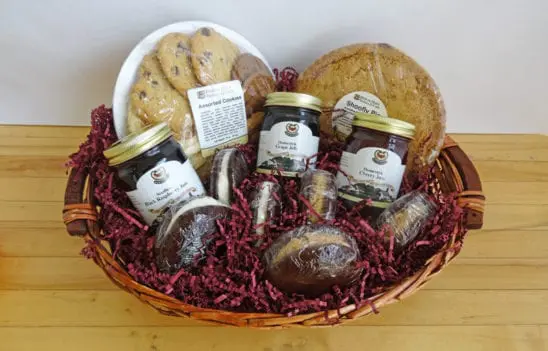 $64.95
Who wouldn't love a sampling of our traditional Pennsylvania Dutch baked goods and delicious fruit spreads? Our Deluxe Bakery Gift Basket features a variety…
Add To Cart
Want to know more about shopping the Bird-In-Hand Bakery online? Read our FAQs
---
NEED MORE? ASK ABOUT BULK ORDERING HOMEMADE BAKED GOODS
Whether you're entertaining a group, catering a special event, giving corporate gifts, or just stocking the freezer, we're happy to help. When you need a large quantity of goodies from our online bakery shop, we are happy to accommodate your bulk orders. The following items are available in bulk:
We ask for at least three weeks notice to prepare your bulk or corporate gift order. Please note that during the holiday season, order deadlines and quantity limits may be in effect. Shipping and handling are determined by the order. Contact us for an estimate.
Bulk Order Inquiry
About Bird-in-Hand
In the heart of Pennsylvania Dutch country, Bird-in-Hand is the perfect Lancaster County vacation destination. The Smucker family has been welcoming travelers to the village for generations. Visitors today can choose from a variety of lodging and dining options, exceptional live entertainment, and a host of unique events, including a guided tour of Amish farmlands, a home-cooked barbecue banquet in a cornfield, hot air balloon rides over patchwork fields, and a farm-to-fork local foods experience, to name just a few. From homemade Pastries and shoofly pie to traditional Pennsylvania Dutch fruit spreads and more, the selections in our online store will bring back memories of your time in Bird-in-Hand – for yourself or to share.
Learn more
FREQUENTLY ASKED QUESTIONS
You can buy pastries online or in person through Bird-in-Hand Bakery. They can also be purchased at the Bird-in-Hand Family Restaurant in the gift shop or order online.
All items offered in the online store have been tested to ensure that they remain bakery shop fresh for the 3-5 days often required for shipping. Many of our online store items are baked fresh to order on the day that they are shipped.
All of our baked items (such as pastries and Pecan Pies) can be frozen to preserve freshness! We recommend that you freeze any baked items that will not be eaten within 1-2 days after their arrival. We suggest wrapping items in aluminum foil before freezing. The items will remain fresh in the freezer for up to 2 months.
While some of our baked goods do not contain allergen ingredients, all of our items are prepared in a facility that uses nuts, dairy, eggs, gluten, etc. Please contact us by email or phone for ingredient details.