Duane Laflin's Comedy Jubilee
September 15 – October 20, 2020
Christmas: November 3, 2020 – January 2, 2021
Ready to ride a riotous wave of nostalgia? This high-energy variety show will have you laughing all the way. Kick back, relax and enjoy a delightful mix of comedy and your favorite tunes from the '50s – including classic country favorites and old-time rock 'n' roll. Duane Laflin and his talented cast combine music and jokes with an uplifting message that will keep you smiling long after you leave the show.
Bird-in-Hand Stage is thrilled to welcome this award-winning entertainer extraordinaire. Duane has performed on five continents, 18 countries and 47 of the 50 states. He is joined by other singers, a comedian and a dancer in a fast-paced 90-minute show that is sure to please.
Bring the whole family and make fun-filled memories!
For tickets, call (717) 768-1568, visit our box office, or reserve online.
Buy Tickets Online »
Showtimes
Show Times & Ticket Prices
September 15 – October 20, 2020
Christmas Show: November 3, 2020 – January 2, 2021
Dinner & Show
Monday – Thursday: Adult, $45; Child, $26
Friday – Saturday: Adult, $47; Child, $26
Lunch & Show
Monday – Saturday: Adult, $42; Child, $23
Breakfast & Show
Monday – Saturday: Adult, $37; Child, $20
Show Only
Monday – Saturday: Adult, $27; Child, $13
Guests dining with us before the performance should arrive at least 90 minutes prior to allow for time to enjoy their meal. If you arrive later than that time, we are not able to guarantee you will be finished dining in time to be seated for the live musical. Stage doors open 30 minutes prior to show time.
Where:
Bird-in-Hand Stage in Lancaster County, PA:
2760 Old Philadelphia Pike, #A
Bird-in-Hand, PA 17505
(Get Google Maps Directions »)
See Showtimes & Buy Tickets »
"The quality of the performances really exceeded my expectations. . . some real talent happening here!"
– Peirins, TripAdvisor
Wholesome Entertainment Everyone Will Enjoy
Our Bird-in-Hand Stage makes it easy to relax and enjoy high-quality live entertainment, including Broadway-style musical theatre with a positive message, in a unique Lancaster County setting.
Intimate 175-seat theatre
Tiered seating with wheelchair-accessible floor seating
Delicious on-site dining
Convenient on-site lodging options
Tickets available as part of a discounted meal and/or lodging package
Theatre season runs March-January with various show times
Escape your everyday world for a little while and enjoy our live stage shows. You'll find yourself laughing, holding your breath, gasping, tapping your toes – uplifted and fully entertained.
Meet our Talented Cast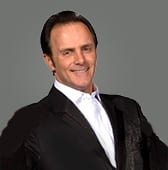 Duane Laflin
An engaging performer, Duane has a great singing voice and a heart for humor and funny business. He began is career as a professional illusionist and won numerous awards for his skill and showmanship. In 2002, he began doing an Elvis tribute show, which became popular across America. The tribute's success led to the creation of a new show, The Grand Jamboree, which was an instant hit. In recent years, Duane has been based in Branson, Missouri, where he has continued to craft his unique combination of country music, Elvis music, gospel music and comedy. He draws on his experience as an illusionist to add occasional surprising sight gags and funny effects.
Amish Country Home Cooking
Our Bird-in-Hand Stage adds new flexibility to the concept of a dinner theatre in Lancaster, PA. To enhance your Lancaster County theatre experience, come early or stay after the show to enjoy a meal at our Bird-in-Hand Family Restaurant & Smorgasbord, where you can order from the menu or select from our mouthwatering all-you-can-eat buffet. If you're looking for lighter fare, enjoy the farm-fresh choices at our nearby Bird-in-Hand Bakery & Cafe. Be sure to ask about dining discounts when you make your reservations.
Restaurant & Smorgasbord
Other Shows on our Stage