Our Christmas Dinner…a holiday musical
October 26 – December 30, 2023
It's Christmas and times are tough for the Davidsons. George lost his job and Jackie has empty boxes under the tree in hopes that his unemployment check arrives in time to buy gifts to fill them. The check doesn't—but unexpected guests do: a soft-spoken Amish farmer and his outspoken wife whose buggy is stuck outside in a snowdrift. Add to the mix Jackie's brother and his new fiancée and things really get interesting. This Amish take on Guess Who's Coming to Dinner serves up plenty of laughs, holiday memories and a whole lot of football.
Returning to our stage, this heartfelt and funny 90-minute show from Blue Gate Musicals features an entertaining mix of favorite carols, original Christmas songs and lots of laughter that all adds up to a memorable holiday experience.
The music and the memories will remind you of the true meaning of Christmas.
Buy Tickets Online »
Showtimes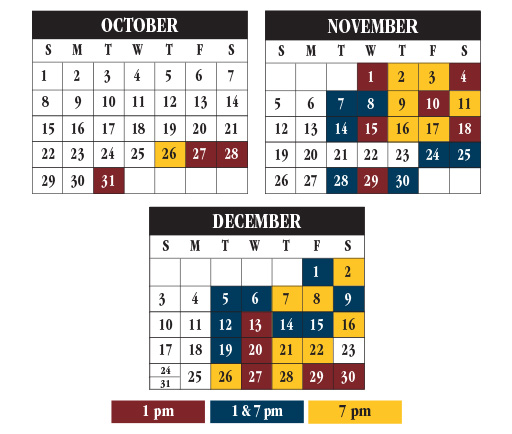 Show Times & Ticket Prices
October 26 – December 30, 2023
Dinner & Show
Monday – Saturday: Adult, $69; Child, $33
Lunch & Show
Monday – Saturday: Adult, $64; Child, $30
Show Only
Monday – Saturday: Adult, $44; Child, $18
Guests dining with us before the performance should arrive at least 90 minutes prior to allow for time to enjoy their meal. If you arrive later than that time, we are not able to guarantee you will be finished dining in time to be seated for the live musical. Stage doors open 30 minutes prior to show time. Show runs 90 minutes with no intermission.
Where:
Bird-in-Hand Stage in Lancaster County, PA:
2760 Old Philadelphia Pike, #A
Bird-in-Hand, PA 17505
(Get Google Maps Directions »)
See Showtimes & Buy Tickets »
"We loved the acting and the music – great story!"

— dovey57, Posen, IL
Wholesome Entertainment Everyone Will Enjoy
Our Bird-in-Hand Stage makes it easy to relax and enjoy high-quality live entertainment, including Broadway-style musical theatre with a positive message, in a unique Lancaster County setting.
Intimate 140-seat theatre
Tiered seating with wheelchair-accessible floor seating
Delicious on-site dining – be sure to check the Restaurant's hours of operation
Convenient on-site lodging options
Tickets available as part of a discounted meal and/or lodging package
Theatre season runs April – December with various show times
Escape your everyday world for a little while and enjoy our live stage shows. You'll find yourself laughing, holding your breath, gasping, tapping your toes – uplifted and fully entertained.
Meet Our Talented Cast

Meredith Aydelott, Harper
Meredith Aydelott is delighted to be back for her third show with Blue Gate Musicals! She is a Nashville, TN native who recently graduated from Middle Tennessee State University with a major in theatre and a minor in musical theatre. You may have seen her performing as Elizabeth in A Simple Sanctuary, or in Indiana as Ginny Meyers in Stolen the Musical. She spent the spring of this year working with Prairie Fire Children's Theatre, where she taught and performed with young theatre artists. Her other recent credits include Anastasia: The Musical (Ensemble) and Godspell (Uzo). She would like to thank her friends and family for their endless support and love along this wild journey!

Tirzah Byers, Female Swing
Tirzah, currently a sophomore at LBC, is thrilled to be making her debut with Bird-in-Hand this Christmas season! Tirzah currently is double majoring in both Musical Theater and Biblical Studies with a minor in Media Arts Production. You have probably seen Tirzah in many productions either onstage or offstage with Servant Stage, Susquehanna Stage, Cavod, and CPS. You can oftentimes find Tirzah sipping a nice cup of tea, listening to music, or making friendship bracelets. She hopes that you too will be able to find joy and rest within this Christmas season. Psalm 46:10
 
Tim Clayton, George
Tim Clayton was raised in Hilliard, Ohio, and is a graduate of Duke University with degrees in theater and psychology. Tim spent much of his time in school performing with Duke's musical theater organization, Hoof 'n' Horn, and more recently has been performing all over the Midwest. Credits including Ryan James in A Simple Sanctuary, Randy Baker in the southern tour of We'll Meet Again, and George in Love Life. Tim is honored and thrilled to be returning in his fourth season with Blue Gate Musicals, and sincerely hopes you enjoy the show!

Ambroja Ferguson, Sylvia
Ambroja Ferguson is a proud alum of The American Musical and Dramatic Academy, and she is excited to be returning to Blue Gate and reprising the role of Sylvia in Our Christmas Dinner, as this will be her second time playing the role. She has performed in various productions, most recently starring as Agent Sebaba in the off-broadway production of City of Hope with FunikiJam. In addition to this credit, Ambroja has performed as the Shirlrelles/Shirley in Beautiful: The Carol King Musical, The general's ward in Pirates of Penzance, and Ensemble in Something Rotten at a regional theatre based in Colorado. Ambroja is looking forward to seeing where her journey as a performer takes her, and is excited to be performing!

Nathan Garner, Jacob
Nathan is glad to be returning to the Bird-in-Hand Stage. This is his 8th year at Bird-in-Hand and 9th with Blue Gate Musicals. He is excited for a new season of shows and a new cast of people to work with! He was most recently seen as Joshua in Dear Soldier Boy and David in The Home Game. He wants to thank you all for coming and hopes you enjoy the show!

Elle Herson, Female Swing
Elle is a high school senior and excited to celebrate this Christmas season with the cast of Our Christmas Dinner! Elle has been seen in the Christmas show at the American Music Theater for the past ten years. She has also performed at Barley Sheaf Theater, SALT, Piercing Word, Cavod, Servant Stage, and West Chester Studios for the Performing Arts. Her experience with TV/commercials includes work with PGW, YMCA, the Discovery Channel, America's Got Talent, Veritas Press, Nemours Hospital, and the Philadelphia Convention and Business Bureau. Elle has had the honor of singing the National Anthem for the Lancaster Barnstormers, Camden Riversharks, and Brandywine Polo Club. She is also a featured performer at Kitchen Kettle Village. Elle would like to thank Jo Abrom and Melody Stanert for instruction in voice and dance and the cast and crew at Bird-in-Hand for this magical holiday experience. Soli Deo Gloria!

Robbie Moran, Male Swing
Robbie Moran is a 22 year old actor from Bardstown, Kentucky. He is returning for his third show here at Blue Gate. Robbie made his Blue Gate debut in Dear Soldier Boy as William Conway III and also performed in The Home Game as Marco Diego. Robbie was an ensemble member in The Stephen Foster Story for five seasons and was the understudy for Dunning Foster and Joseph P. Murphy. He also pursued a degree in Acting at Western Kentucky University with a Musical Theater Minor.

Connor Murphy-White, Sadie
Connor Murphy-White is thrilled to be performing with Blue Gate Musicals for her sixth season! She is a M.M. Vocal Performance graduate of the University of New Mexico, graduating with highest honors, and Troy University, Summa Cum Laude, B.S. Music Industry and Theatre. Ms. Murphy-White's achievements while studying at Troy include being recognized as the 2015 Outstanding Music Graduate and being awarded an internship with Distinguished Concerts International New York (DCINY) in Manhattan.
Ms. Murphy-White has enjoyed a broad and varied performance career in opera and musical theatre, highlights include performing with Birmingham Children's Theatre, Opera Birmingham, Russian Opera Workshop, Missoula Children's Theatre, Miami Music Festival, Berlin Opera Academy, Albuquerque Philharmonic, UNM Orchestra and Choirs, Red River Lyric Opera, and Horn in the West. She has won numerous classical vocal competitions and was named a winner for the UNM Concerto and Aria Competition in 2018. Website: connormurphywhite.com

Grant Myers, Uncle Ollie
Grant Myers is very excited to return to the Bird-in-Hand Stage for his second Blue Gate production! Grant holds a B.F.A. in Musical Theatre from Emory & Henry College and was recently seen as Orville Whipple in Bird-in-Hand's run of Dear Soldier Boy. Other credits include Newsies (Albert) & The Drowsy Chaperone (Superintendent/Ensemble) at Lees-McRae Summer Theatre, Hello, Dolly! (Ensemble) at Myers Dinner Theatre, and A Midsummer Night's Dream (Peter Quince) and State Fair (Lem/Fairtone) at Emory. He thanks the cast, crew and creative team for another amazing experience and his family, friends and his partner, Jay, for all their love and support. Enjoy the show!

Richard Weaver, Glenn
Richard is so thrilled to return to the Bird-in-Hand Stage! You may have seen him last as Levi Troyer in The Home Game, Mitch Lee in Dear Soldier Boy, Bart in Josiah for President, Denny in A Simple Sanctuary, Brock in The Best of Me, Jimmy Scott in Stolen the Musical. Richard grew up in Lancaster County and has been performing locally for many theaters including The Fulton Theatre, The Dutch Apple Dinner Theatre, Servant Stage, and many more! Some of his favorite roles include Ensemble in Treasure Island at the Fulton Theatre and Laurie in Little Women at Cavod Theatre. When not performing he can be found teaching acting classes, playing DnD, and directing shows! A big thanks to his wife Catherine, friends, family, teachers, and God.

Catherine Weaver, Jackie
Catherine Weaver is excited to return to the Bird-in-Hand Stage after appearing in The Home Game, Dear Soldier Boy, A Simple Sanctuary, Josiah for President, The Christmas Tree Ship, and Stolen. She holds a BFA in musical theatre from Samford University and has performed with various companies including Hampstead Stage Company, Birmingham Children's Theatre, and National Theatre for Children. Catherine also performs locally with Magic and Wonder Theater, Piercing Word, and Cavod Theatre. Thanks to Monica for this opportunity. Love to her wonderful husband Ric. And Merry Christmas!
Stay Overnight: Experience Smucker Family Hospitality
Our on-site dining options are a delicious way to round out your visit to our Bird-in-Hand Stage. For an even more memorable theatre experience, ask about discounted packages that include meals or lodging at our one of our conveniently located properties, which provide easy access to all the most popular Lancaster County attractions.
2024 Shows on Our Stage