Dear Soldier Boy…a feel-good musical comedy
April 6 – July 27, 2023
It's 1990 and Iraq has just invaded Kuwait. War is contrary to Amish ways, but Anna King wants to do something to help America's troops, so she and her feisty friend and coworker Sofia volunteer to write letters of encouragement to the troops. Anna just wants to be a blessing. Sofia just wants to find a husband. It's all fine until the lonely pen pals get weekend passes and show up to surprise the girls at work—all on the very same day!
This new musical comedy written by Martha Bolton, with original songs by Wally Nason, is the latest is a long line of wholesome, Broadway-caliber shows from Blue Gate Musicals, all set in the heart of Amish Country. This show is sure to bring a smile to your face.
Will Anna's father learn of her secret mission? Will Sofia find a husband? Is true romance in the air for Anna (or is it just the Limburger cheese)?
Buy Tickets Online »
Showtimes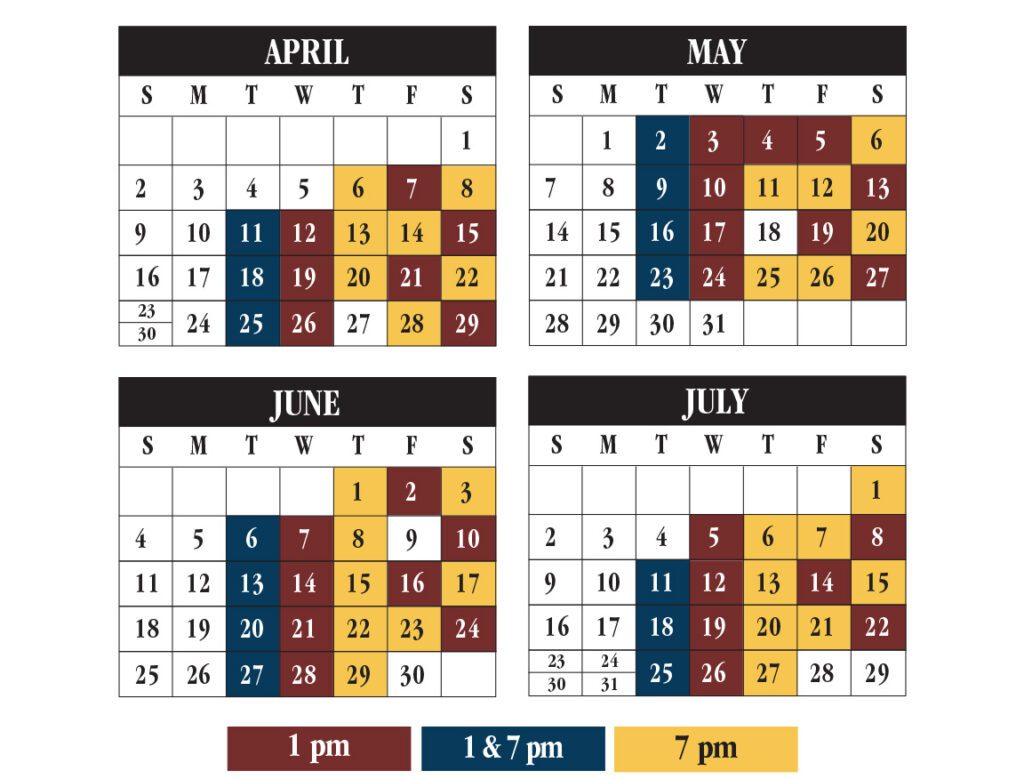 Show Times & Ticket Prices
April 6 – July 27, 2023
Dinner & Show
Monday – Saturday: Adult, $69; Child, $33
Lunch & Show
Monday – Saturday: Adult, $64; Child, $30
Show Only
Monday – Saturday: Adult, $44; Child, $18
Guests dining with us before the performance should arrive at least 90 minutes prior to allow for time to enjoy their meal. If you arrive later than that time, we are not able to guarantee you will be finished dining in time to be seated for the live musical. Stage doors open 30 minutes prior to show time.
Where:
Bird-in-Hand Stage in Lancaster County, PA:
2760 Old Philadelphia Pike, #A
Bird-in-Hand, PA 17505
(Get Google Maps Directions »)
See Showtimes & Buy Tickets »
"We loved the acting and the music – great story!"

— dovey57, Posen, IL
Wholesome Entertainment Everyone Will Enjoy
Our Bird-in-Hand Stage makes it easy to relax and enjoy high-quality live entertainment, including Broadway-style musical theatre with a positive message, in a unique Lancaster County setting.
Intimate 140-seat theatre
Tiered seating with wheelchair-accessible floor seating
Delicious on-site dining – be sure to check the Restaurant's hours of operation
Convenient on-site lodging options
Tickets available as part of a discounted meal and/or lodging package
Theatre season runs April – December with various show times
Escape your everyday world for a little while and enjoy our live stage shows. You'll find yourself laughing, holding your breath, gasping, tapping your toes – uplifted and fully entertained.
Meet Our Talented Cast

Tim Clayton,
Male Ensemble/Swing
Tim Clayton is thrilled to be back for his fourth season with Blue Gate Musicals. Raised in Hilliard, Ohio, and a graduate of Duke University studying theater and psychology, Tim spent much of his time in school performing with Duke's musical theater organization, Hoof 'n' Horn. Credits include Ryan James in A Simple Sanctuary, Randy Baker in We'll Meet Again, and George in Love Life. Tim made his Blue Gate debut in 2020 as Simon Yoder in The Gut Life: Christmas with the Yoders and Nick! He would like to thank his parents for their never-ending love and support, and to thank all who come to see the show for continuing to support live theater during such uncertain times; he hopes you enjoy the show!

Monica DePaul,
Fern Hershberger
Past Blue Gate credits include: Barbara Schuenemann in The Christmas Tree Ship, Leela in A Simple Sanctuary, Elizabeth Stoltzfus in Josiah for President and more! Originally from: Orange County, CA; Training: BFA in Musical Theatre from California State University, Fullerton. Sight & Sound Theatre credits: Abraham and Sarah, Psalms of David, Voices of Christmas, Noah and more! Local theatre credits: The Fulton Theatre, PRiMA Theatre, Servant Stage Company and more! Favorite roles include: Sarah in Abraham and Sarah, Morgan in Godspell and Nimue in Camelot. She also enjoys the role of Artistic Director of Cavod Theatre in New Holland, PA. Love to: Mom, Vinnie, Amelia and Ella; to God for loving us and "directing us to radiate the beauty and spread the fragrance of His Providence".

Nathan Garner,
Joshua King
Nathan is glad to be returning to the Bird-in-Hand Stage. This is his 8th year at Bird-in-Hand and 9th with Blue Gate Musicals. He is excited for a new season of shows and a new cast of people to work with! Most recently he was seen as one of the lumberjacks in The Christmas Tree Ship and Josiah in Josiah for President. He wants to thank you all for coming and hopes you enjoy the show!

Caylin Keliehor,
Female Ensemble/Swing
Caylin Keliehor (she/her) is thrilled to be joining the Blue Gate family! A graduate of Shenandoah Conservatory Musical Theatre, she has most recently been seen regionally in Little Shop of Horrors (Audrey), Xanadu (Melpomene, Kira u/s), Spamalot (Laker Girl, Dance Captain), and Footloose (Urleen), among others. For Meo and my beautifully supportive immediate and chosen family: You know who you are; I love you!  www.CaylinKeliehor.com IG: @mscaylink

Josie LaTorres,
Sofia Lucia Maria Delamonte
Josie LaTorres (she/her) is very excited to be making her Blue Gate Musicals debut! Josie is a performer based in Allentown, PA, and is a 2022 graduate of DeSales University with a BA in Theatre. Regional Credits: Much Ado About Nothing, Little Red, The Taming of the Shrew, The River Bride (Pennsylvania Shakespeare Festival); At the Stroke of Midnight (Pines Dinner Theatre); In the Heights, Buddy: The Buddy Holly Story, and Jesus Christ Superstar (NCC Summer Theatre). Josie would like to congratulate the cast and crew and to thank her family for their love and support! www.josielatorres.com IG: @josielatorres

Robbie Moran,
William Conway III
Robbie Moran is a 22 year old actor from Bardstown, Kentucky. Robbie was an ensemble member in The Stephen Foster Story for five seasons and was the understudy for Dunning Foster and Joseph P. Murphy. He also pursued a degree in Acting at Western Kentucky University with a Musical Theater Minor. At WKU, Robbie was a part of multiple productions including Songs For A New World and FooLs. He performed in the "Comeback Cabaret" at Don't Tell Mama's in New York City this January. Robbie is super excited to make his Blue Gate debut!

Grant Myers, Orville Whipple
Grant Myers is a B.F.A. Musical Theatre graduate from Emory & Henry College (VA) and is incredibly excited to perform in his first production with Blue Gate Musicals at Bird-in-Hand Stage! He was previously seen in productions such as Newsies (Albert) & The Drowsy Chaperone (Superintendent/Ensemble) at Lees-McRae Summer Theatre, in Hello, Dolly! at Myers Dinner Theatre, and in A Midsummer Night's Dream (Peter Quince) and State Fair at Emory. He thanks the cast, crew and creative team for an amazing experience and his family, friends and his partner, Jay for all their love and support. Enjoy the show!

Ben Tidwell, John Paul Miller
Ben Tidwell is elated to make his Blue Gate debut in Dear Soldier Boy. Hailing from Birmingham, AL , Ben is an alumnus of The Growing Studio NYC's LINK program and holder of a BFA in musical theatre from Samford University. His theatre credits include Rodgers & Hammerstein's Cinderella, Matilda: The Musical (Red Mountain Theatre), Peter Pan (Children's Theatre of Charlotte), and Gypsy (The Virginia Samford Theatre). Ben has also performed in both character and singer-musician roles across multiple theme parks including Kings Dominion, Cedar Point, and Busch Gardens. He was most recently seen making music across the Caribbean aboard the MSC Seashore in RWS Entertainment Group's "Off the Record…On the Rocks". When he isn't doing theatre, he can be found either playing a piano somewhere or writing music. Soli Deo Gloria. @benctidwell

Richard Weaver, Mitch Lee
Richard is so thrilled to return to the Bird-in-Hand Stage! You may have seen him last as Bart in Josiah for President, Denny in A Simple Sanctuary, Brock in The Best of Me, Jimmy Scott in Stolen the Musical. Richard grew up in Lancaster County and has been performing locally for many theaters including The Fulton Theatre, The Dutch Apple Dinner Theatre, Servant Stage, and many more! Some of his favorite roles include Ensemble in Treasure Island at the Fulton Theatre and Laurie in Little Women at Cavod Theatre. When not performing he can be found teaching acting classes, playing DnD, and directing shows! A big thanks to his wife Catherine, friends, family, teachers, and God. Go follow him on Instagram @richard__weaver!

Catherine Weaver, Anna King
Catherine Weaver is excited to return to the Bird-in-Hand Stage after appearing in A Simple Sanctuary, Josiah for President, The Christmas Tree Ship, and Stolen. She holds a BFA in musical theatre from Samford University and has performed with various companies including Hampstead Stage Company, Birmingham Children's Theatre, and National Theatre for Children. Catherine also performs locally with Magic and Wonder Theater, Piercing Word, and Cavod Theatre. Thanks to Monica for this opportunity. Love to her wonderful husband Ric.
Stay Overnight: Experience Smucker Family Hospitality
Our on-site dining options are a delicious way to round out your visit to our Bird-in-Hand Stage. For an even more memorable theatre experience, ask about discounted packages that include meals or lodging at our one of our conveniently located properties, which provide easy access to all the most popular Lancaster County attractions.
Other Shows on Our Stage, 2023