Experience Living History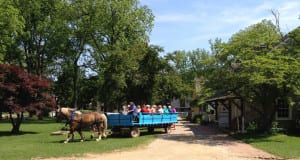 Our Landis Valley Village & Farm Museum Package includes a horse-drawn wagon ride around the Victorian village and the 18th-century farm and homestead, plus a sampling of sticky buns, schnitz pie and cider as they tour the original 1856 Landis Valley House Hotel & Tavern. After a morning at Landis Valley, your group will enjoy authentic Pennsylvania Dutch dining at the Bird-in-Hand Family Restaurant & Smorgasbord, featuring a wide selection of home-cooked, farm-fresh dishes and desserts; our homemade soups, fresh salads and home-baked breads; and tempting treats from our Bird-in-Hand Bakery & Cafe. To round out the experience, we can include tickets to a Broadway-style musical or magic show on our Bird-in-Hand Stage.
These special packages are available with or without lodging. To arrange a memorable experience for your group of 20 or more, call us at (800) 627-1910 or email us.